April 27, 2021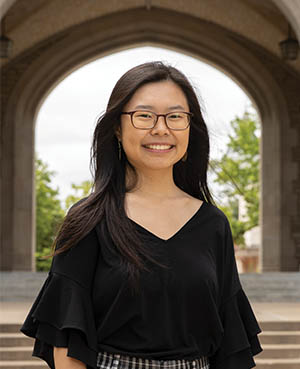 A Mizzou Engineer will be among 60 students presenting this week at Posters on the Hill, a prestigious Washington D.C.-based event that showcases top undergraduate researchers in the country. Rebecca Shyu, who is majoring in computer science, presents virtually on Wednesday, April 28.
Specifically, Shyu will present findings from a study she's been working on with the Missouri Cancer Registry. She and the research team used county-level cancer data from national registries and census information to identify areas with high prevalence of liver cancer. They found that higher rates of the disease are more common in socially vulnerable areas with severe housing problems and a mostly non-English speaking population.
The research project is unique in the fact that it approaches a public health question of cancer through a lens that geospatially incorporates biological, behavioral and institutional data.
"Having a geospatial understanding of health-related problems is essential because it takes into consideration the effects of location/geography," she said. "It helps policymakers take a holistic view of life in each county, looking at access to healthy food, demographics, etc. I hope my audience will see that disease can be contingent on a multitude of factors, from the biological level to institutional policies. It's important to leverage computer science methods to identity patterns of higher rates of disease."
The Council on Undergraduate Research sponsors Posters on the Hill to give undergraduates and their mentors a voice on Capitol Hill. Hundreds of students apply to participate in this prestigious event each year.
Shyu said she is honored to present at the event alongside undergraduate peers working on innovative and integral research.
"I have always been interested in the intersection of policy and computer science, so this is the perfect opportunity to present my research and advocate for undergraduate research to legislators," she said.
'A Multitude of Opportunities'
Shyu is no stranger to presenting her work. Her first presentation took first place as a poster paper submission at an Institute of Electrical and Electronics Engineers (IEEE) international conference in 2017 when she was still in high school. She's had poster presentations at a joint international conference by the North American Association of Central Cancer Registries and the International Association of Cancer Registries in 2019. That same year, she had a poster presentation at the American Public Health Association conference. More recently, Shyu presented virtually at an American Medical Informatics Association conference. And earlier this month, she was part of the University of Missouri System's Undergraduate Research Day event.
"Presenting and participating in conferences have allowed me a multitude of opportunities professionally and personally," she said. "I have met and listened to the top researchers in my field, who have had large impacts on society with their work. It's inspiring to attend, especially as an undergraduate student, to see what other researchers are doing and to imagine that your work could similarly serve communities all over the world."
In addition to working with the Missouri Cancer Registry, Shyu works with the Show-Me ECHO program where she analyzes access to health care within the state of Missouri. She is also interning with Harvard Medical School's Department of Health Care Policy.
In the Electrical Engineering and Computer Science Department, Shyu working on an honors thesis concerning improving security and privacy techniques when using and exchanging genomics data. This semester, she was also named a Goldwater Scholar.