May 21, 2021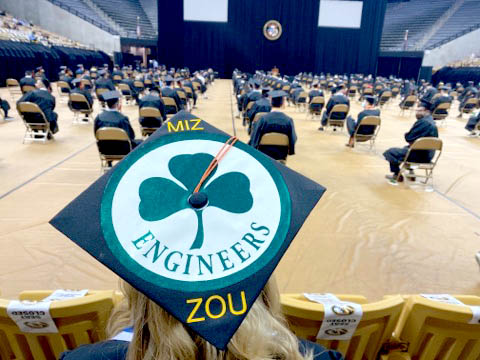 Mizzou Engineering's Class of 2021 faced unprecedented challenges to get to Spring Commencement — and became engineers along the way.
Dean Noah Manring joined UM System President Mun Choi to confer 309 bachelor's degrees during Saturday's commencement ceremony. During his remarks, Manring praised this year's graduates for persevering as they transitioned from a traditional campus experience to remote learning and a hybrid of the two.
"You demonstrated resilience and determination," Manring said. "You solved problems you had never encountered before. But that's what we do. Engineers solve problems. It's who you are, and you have earned that title."
Graduates join an elite network of Mizzou Engineering alumni around the globe. Alumni serve as CEOs, presidents and directors at companies including Dow, Inc., AOL, Black & Veatch and Burns & McDonnell and at organizations such as the Defense Information and Systems Agency and the National Security Agency.
"Take pride in the fact you are not only an engineer, you are a Mizzou Made engineer. That's a powerful combination," Manring said. "Engineering leadership is what we do. It sets us apart. And we look forward to you continuing that long and proud tradition."
Manring urged graduates to remember those who helped them along the way, including family members, friends, faculty and mentors. He asked that they also reflect on the generations of engineers who have made significant contributions to society. Engineers, he said, made it possible for them to continue their studies from home, monitor health and wellness symptoms on their smart phones and receive vaccines to combat the coronavirus.
But even on the other side of COVID, there's work to be done, Manring said. Those suffering from cancer, heart disease and other health issues are still awaiting medical breakthroughs. Society needs alternatives to limited fossil fuel supplies. Roads and bridges are in need of significant overhauls. And cyber attacks continue to threaten economic systems.
"You will be the generation tackling these problems, and it will take civil, computer, electrical, industrial and mechanical engineers working together to find solutions," Manring said.
It's also an exciting time to enter the engineering field. He pointed to emerging technologies such as artificial intelligence, autonomous systems and advanced robotics. And there's still much to discover about the universe.
"Engineers got us to the moon. Engineers are getting us to Mars. And engineers will continue to propel us into new frontiers of space," Manring said. "Class of 2021, you will become the leaders who will user in this exciting new era."
 Additional Honors
Prior to Saturday's ceremony, graduates were treated to a photo slideshow showcasing their college experiences. The Mizzou Engineering Student Council prepared the presentation, which also honored newly commissioned U.S. Army and U.S. Air Force officers from the Reserved Officers Training Corps (ROTC) program. Honorees included:
Tanner Bahora, Air Force, 2nd Lieutenant
Seth Crockett, Air Force, 2nd Lieutenant
Jared Hold, Air Force, 2nd Lieutenant
Micah Gwinn, Army, Second Lieutenant
Benjamin Steger, Army, Second Lieutenant
Last weekend, a total of 146 graduate students earned their PhD or master's degree at the MU Graduate School Commencement Ceremony.
Faculty and Staff Honorees
Prior to commencement, students are given the opportunity to vote for their favorite instructors and staff members for the semester. This spring, the following Mizzou Engineering faculty and staff were selected:
Biomedical and Biological Engineering Assistant Professor Robert Thomen
Chemical Engineering Director of Undergraduate Studies and Associate Teaching Professor Mary Myers
Civil and Environmental Engineering Post Doctoral Fellow Aaron Saucier
Computer Science Associate Professor Michael Jurczyk
Electrical and Computer Engineering Associate Professional Practice Professor Jim Fischer
Industrial and Manufacturing Systems Engineering Associate Professor Jung Hyup Kim and Chair James Noble
Information Technology Assistant Teaching Professor Fang Wang
Mechanical and Aerospace Engineering Professor Craig Kluever
Business Support Specialist Jason Huddleston
Academic Advisor Tami Beatty
Class of 2021, learn how you can stay connected to Mizzou Engineering. 
Learn more about becoming a Mizzou Made engineer.