March 17, 2021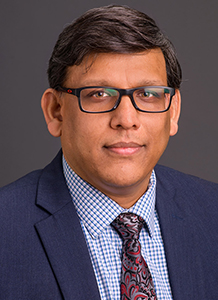 Praveen Rao has been invited to serve as a member of the Environmental Health Sciences Review Committee, which serves as an advisory board to the National Institutes of Health (NIH). Members are appointed for a 3-year term.
Rao is an associate professor with joint appointment in Electrical Engineering & Computer Science and Health Management & Informatics.
The committee's primary responsibility is to review applications for environmental health sciences core centers, institutional training grants, career awards and other specialized applications that relate to processes by which human health is adversely affected by the environment. It also serves as an advisory group to the National Institute of Environmental Health Sciences and the National Advisory Health Sciences Council.
The Environmental Health Sciences Review Committee includes members from Massachusetts Institute of Technology, Columbia University in New York and Harvard.
"I am honored to join this elite group," Rao said. "I look forward to providing data science and health informatics perspectives to the work."
Rao is also a Senior Member of the Association for Computing Machinery (ACM) and a Senior Member of the Institute for Electrical and Electronics Engineers (IEEE).