August 12, 2021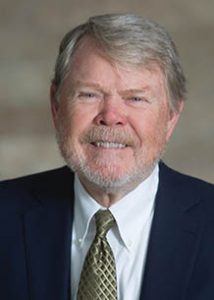 In honor of his successful engineering career and his commitment to Mizzou Engineering, Ron Wood (BS EE '64) has been named to 2020 winner of the Citation of Merit Award, part of Mizzou Engineering's Hall of Fame.
Recipients of the award, which is given by the MU Engineering Alumni Organization, are chosen for their significant impact on the engineering profession and/or the University.
Wood is receiving the award for his career accomplishments as an engineering leader and notable involvement with Mizzou that has spanned decades.
Commitment to Mizzou
Wood serves Mizzou Engineering in a variety of ways. He is a member of the Bioengineering Advisory Board, the Strategic Advisory Board and the Dean's Advisory Council. He is also a member of the Shamrock Society and the Jefferson Club at the Ambassador Level and a life member of the Mizzou Alumni Association. Along with his wife, Judy, Wood co-founded the Ron & Judy Wood Engineering Scholarship Fund.
"I continue to believe the College of Engineering is an important asset for the overall University of Missouri system," Wood said when discussing his continued service to the University.
The Citation of Merit Award is the fifth award Wood has received in recognition of his career and service to the University. In 2004, Wood received the Missouri Honor Award for Distinguished Service in Engineering. He received a Faculty-Alumni Award from the Missouri Alumni Association in 2008, the Presidential Citation Award in 2015 and the James E. "Bud" Moulder Distinguished Alumni Award in 2016.
Career at Black & Veatch
Wood's career at Black & Veatch began upon his graduation from Mizzou and spanned 42 years. Beginning in 1999, Wood served as an executive officer and member of the board of directors of Black & Veatch Holding Company until his retirement. He retired in 2006 as President & CEO of Black & Veatch Energy.
While serving as President & CEO, Wood was responsible for the Black & Veatch energy business, which provides engineering, procurement and construction services for energy infrastructure projects in North and South America, Asia, Europe, Africa and the Middle East. He was also responsible for production offices in the U.S., Thailand, China and India, which comprised nearly 3,000 employees. Wood served on the World Energy Council Officers Council and Board of Directors.
Wood received his Juris Doctor from the University of Missouri – Kansas City in 1968 and is a licensed attorney in the state of Missouri.
Wood is currently the founder and principal officer of an early-stage investment company, WOOD CAPITAL, LLC. He is also founder and chairman of Tiger Energy Solutions, LLC, a biotechnology research and development company.
Wood, along with the other 2020 and 2021 award recipients, will be honored by Mizzou Engineering at a ceremony on Friday, September 17.