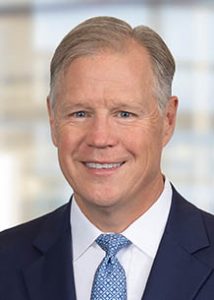 Steve Pelch (BS ME '87) is a successful leader, advocate for the engineering field and a pillar in his community. He is also a deserving recipient of the 2020 Missouri Honor Award for Distinguished Service in Engineering, part of Mizzou Engineering's Hall of Fame.
Pelch is receiving the award because of his numerous contributions within a technical engineering field, while being an ambassador in fostering the professional development of young engineers and future leaders during his time at Emerson."I've looked at the past recipients of this award and to be associated with them or even be considered in the same company is humbling," Pelch said.
Colleagues of Pelch commend him for his leadership and deep care for employees and customers.  His care went well beyond work, and he was seen as a dear friend, as well a colleague.
Appreciation for STEM Education
Despite spending only a short time of his career as a "traditional engineer," Pelch credits his success as a leader in part to his engineering education.
"Outstanding on every level," Pelch said of how Mizzou prepared him for his career. "Both academically and socially."
Growing up in St. Louis and knowing that he wanted to study engineering, Pelch chose Mizzou because of its size and community that would allow him to interact with people from all majors. This interdisciplinary experience and the business courses he took his last semester at Mizzou played a part in his career as a business leader. While working, he also obtained his MBA from the University of South Carolina.
While his career took him beyond traditional engineering, Pelch still credits a lot of his success to the field and is a champion for STEM education.
"I owe so much to the thought processes that engineering requires you to do," Pelch said. "It teaches you how to think, how to solve problems."
Commitment to Community
Community also played an important role in Pelch's experience at Mizzou. He said that a lot of his personal development and learning experience took place outside of the classroom in the Mizzou community.
"You're not only learning what is taught in the classroom and the laboratories, but you're also learning about people," said Pelch, "Their strengths, their weaknesses, their challenges, their backgrounds, their histories."
Now, Pelch, who lives in St. Louis, is still an active member of his community. He serves on the board of directors of Junior Achievement of Greater St. Louis which helps prepare youth in the community to achieve success in their future academic and professional lives. He was the chairman of the board for Ronald McDonald House Charities of St. Louis and is still active in the organization. He also serves on the board of trustees of the Eisenhower Fellowships.
Career at Emerson
Pelch's 34-year career with Emerson comprised a multitude of leadership positions and even spanned continents. He began his career at Emerson as an applications engineer at its Fisher Controls business in Iowa in 1987. He was promoted into management position in the petrochemical and chemical industries and went on to manage its service organization in the U.S. Southeast region, based in South Carolina and then relocated to St. Louis to lead the Midwest region.  In 1997, he led an acquisition based in New Hampshire.
Pelch was promoted to vice president and general manager for Emerson's Fisher Controls business in Asia in 2001. Based in Singapore, he oversaw manufacturing facilities in China, Japan, India, Australia, Singapore and Malaysia. In 2004, he became vice president of planning for the Emerson Process Management business platform.
From 2005 to 2012, Pelch served as vice president of corporate planning, and then became executive vice president in charge of organization planning/development and human resources. In 2014, he was named to Emerson's Office of the Chief Executive and in 2018, he became chief operating officer, his most recent title held with Emerson.
Pelch, along with the other 2020 and 2021 award recipients, will be honored by Mizzou Engineering on Friday, September 17.