July 12, 2021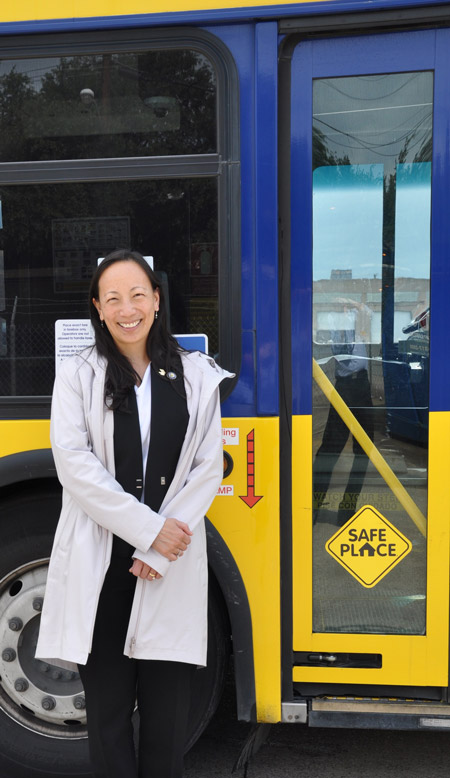 As the new president and CEO of the Dallas Area Rapid Transit (DART) regional transit agency, Nadine Lee, BS CiE '92, believes in serving all people well and connecting her daily work to broader societal goals.
"Everything we do relates back to the public good," she said. "It's important to keep this in mind when working through equations and daily challenges. We're building a system that ultimately serves people."
DART operates rail, bus, ride share and paratransit services for the City of Dallas and 12 surrounding cities. The system transports 220,000 passengers per day over a 700-square-mile service area, including to and from DFW International Airport and Fort Worth.
"We want to increase prosperity by providing improved and expanded access to high-quality mobility services," she said. "My primary responsibility will be guiding DART to deliver a great transit system that works really well for all people. By all people, I mean a system that is inclusive, welcoming and safe for everyone."
Lee and her husband Ted Krull, a Mizzou civil engineering graduate as well, are moving from Los Angeles to Dallas. In her previous role, she was the chief of staff for the Los Angeles County Metropolitan Transportation Authority (Metro). Lee orchestrated services and programs and led efforts to improve the equity and dependability of the bus service for riders. Prior to being chief of staff, she was Metro's deputy chief innovation officer. She also worked for Denver's Regional Transportation District before joining Metro, after beginning her career as a highway designer with HNTB in Kansas City, Missouri.
Mizzou Memories
It was almost predetermined for Lee, a Columbia, Missouri native, to attend Mizzou. Her father taught macroeconomics at the graduate level at the University, and her mother worked in Library Systems and was a loyal Tigers fan.
"My Mom was Mizzou's biggest fan in football and even more so in basketball. She followed them religiously," Lee said.
She did not have a favorite engineering class, but Lee specifically remembers the systematic way Dr. (David) Guell would clean the chalkboard. He would go top-down, right-to-left every class period and "was an engineer, through and through," Lee said.
Some of her favorite memories from her time as a student were the periods between classes.
"That's when the most social interactions happened. I'd walk across the Quad or Lowry Mall, meet someone and start talking with them," Lee said. "We'd hang out in the basement of the engineering building to compare notes on classes and homework. That's where the civil engineering students really got to know each other."
The leadership qualities that have served Lee throughout her career began to emerge when she became president of Mizzou Sigma Alpha Iota, a women's music fraternity. Lee also played the flute for Marching Mizzou for two years and continues to enjoy the arts through ballet training.
Driving Forward
As Lee takes the helm of DART, she credits her engineering education for helping her develop as a leader.
"At the University of Missouri, I gained a solid foundation for entering the workforce and starting my career in engineering," she said. "I developed a good understanding of how to identify things like critical path or weakest point in a structure, which are obvious for engineers. However, if you use these as a metaphor for leadership, it's something that helps you have a different perspective on risk assessment when making decisions. This really set me up for life in terms of looking at problems and developing solutions to those problems."
Using this guidance, Lee wants to improve DART users' experiences and ultimately the Dallas area. This includes enhancing the functionality and inclusivity of DART for the people of the Dallas-Fort Worth area.
"What I like most about what I do is improving communities. What we do is critical to making places more inclusive and useful. I specifically like helping those who don't have a voice or are often ignored," she said. "Having the problem-solving abilities of an engineer coupled with some degree of political acumen, I'm better positioned to help those who have been historically, and are currently, disenfranchised."
Lee looks forward to learning about and being part of the Dallas community, while striving to make its transit system better for all.