April 21, 2021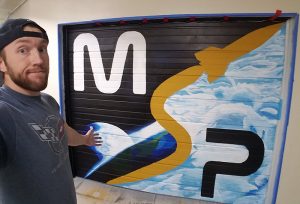 A soon-to-be Mizzou Engineering graduate's career path will come full circle when he starts a job as an aircraft systems designer at Garmin in May. Caleb Edmonds, a senior from Parkville, Missouri, will focus on the installation of Garmin's auto pilot systems into many types of aircraft.
"I will be determining how to install and attach these systems into the flight controls in safe and effective ways," he said.
Edmonds enrolled at Mizzou after a seven-year career in the U.S. Air Force.
As a general aircraft mechanic in the Air Force, Edmonds inspected and repaired F-16 fighter jets. This is where his interest and passion for aerospace was born.
"I worked on pretty much all of the plane – removing and installing components, basic inspections and checking for damage," Edmonds said. "I'd talk with the pilots to see if there were any issues. We were pretty much responsible for the entire aircraft."
In addition to repairing and maintaining F-16s, he also served as part of the ground crew, directing planes to runways and signaling pilots to take off.
While being responsible for aircraft that are approximately $30 million each, he was stationed at various bases in the U.S., South Korea and served one tour in Afghanistan. During his assignment at Shaw Air Force Base in South Carolina, one of Edmonds' duties he volunteered for was to lead an honor guard unit. Due to a scheduling issue, his training time for this duty was just one week, half the normal training period.
"I learned within a week, and started doing ceremonies," he said. "As a Staff Sergeant, I also had to learn how to train people to do it (ceremonies). We trained every day. We're trying to perfect something to the upmost degree."
Edmonds completed his service in 2016, rising to the rank of Staff Sergeant (E5).
Having a high interest in machines because of his time in the Air Force, Edmonds wanted to get a degree in mechanical engineering. He chose Mizzou to pursue his education, in part, due to the diverse opportunities that are available at MU.
"I could be involved in art and other avenues besides just engineering," he said. "I always try to be in a more diverse, broad background so I can understand different angles and perspectives, and felt like I could get that at Mizzou."
Edmonds is active outside the classroom. He is vice-president of the Mizzou Space Program, where he oversees all the project managers, and help them be successful and complete their assignments. He is also a member of Tau Sigma, an academic honor society for transfer students.
Edmonds' start to his civilian career will bring him nearly full circle to his time in the Air Force – ensuring planes are updated with proper equipment and functionality.