June 28, 2021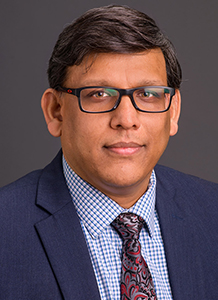 A Mizzou Engineering researcher is part of team proposing a new way to use blockchain technology to streamline supply chains.
Blockchain is a decentralized database that allows multiple stakeholders to access and share information in a secure, transparent manner. Users can provide information to the decentralized database; however, they cannot tamper with data once it is recorded.
While others are investigating ways to incorporate it into supply chain systems, the team's proposal is unique in that researchers studied multiple aspects of the process from a cloud computing perspective, said Praveen Rao, an associate professor with joint appointments in Electrical Engineering & Computer Science and Health Management & Informatics.
"Supply chains are complicated and involve many entities, from the person making a request to people fulfilling requests to billing and support," Rao said. "There are so many different actors in the supply chain, it can be frustrating if it is done manually. You want transparency in the whole process; and you want to automate it, so people don't waste a lot of time trying to procure resources. For this paper, we focused on cloud asset provisioning, which is an unsolved problem."
Rao pointed to supply chains that became critical during COVID-19. At the beginning of the pandemic, hospitals were scrambling to locate masks, ventilators, available beds and other supplies.
"It was a big mess," he said. "I think that was a realization for people that supply chains need to be more robust, resilient and tamper-proof."
More recently, health care providers have had to work with separate suppliers to access vaccines quickly and in ever-changing conditions.
While there are only a handful of companies supplying vaccines, thousands of hospitals, nursing homes and health care providers have to access the various brands from different providers. A decentralized blockchain system would streamline the process, making it easier for medical professionals to locate, request and track supplies. A hospital could also use the database to report unused supplies, allowing another medical provider to request them.
"With a decentralized system, you don't have a central authority looking over everything — which can be OK, but is not secure," Rao said. "With the help of blockchain technology and decentralization, you can make a whole supply chain secure and trustworthy. And you can go back and see the process and trail of transactions."
Rao worked with Srini Bhagavan and Thuan Ngo of IBM. Bhagavan is also Rao's PhD student, who is studying at University of Missouri-Kansas City. The team proposed the system, Multi-cloud Hybrid Cloud Supply Chain Blockchain with Smart Contracts, at the 37th annual International Conference on Data Engineering Workshops, hosted by the Institute of Electrical and Electronics Engineers in April.