October 31, 2022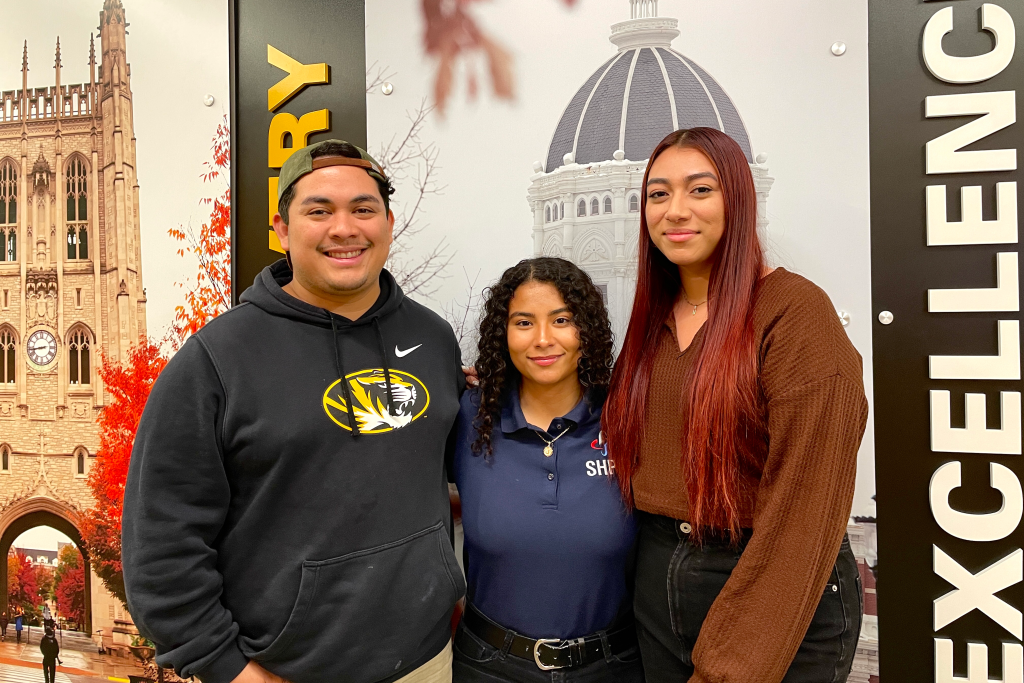 Looking for a college familia? Look no further than Mizzou's Society of Hispanic Professional Engineers (SHPE). The organization strives to provide members with a sense of family.
Nationally, SHPE is the largest association dedicated to fostering leadership in STEM among the Hispanic community. Mizzou SHPE chapter president and electrical engineering student Jazmin Renteria Gonzalez says that the organization bridges the gap between higher education and Hispanic students, helping them overcome barriers such as being first-generation students or not having much STEM mentorship.
"Going into college, I knew the statistics that laid before me," she said. "I am a first-generation American, first-generation college student, Latina in STEM and so much more. I knew SHPE would be the community I needed to feel at home, and it keeps surpassing my expectations every day."
Gonzalez is one of more than 30 students actively involved in Mizzou SHPE, and she hopes the organization continues to grow as they offer more activities. From professional development workshops to volunteering events, the group hosts a wide variety of meetings and provides students with numerous resources.
"Much of what we do here on campus is help with the tools that will make people more successful," said Lino Cruz Terrones, a senior industrial engineering student and former officer of SHPE. "We bring professionals from different companies – mostly Hispanic because we want that representation here – to inspire them. To let people know it's possible, you can make it."
In addition to bringing professionals to campus, SHPE leaders encourage meeting other Hispanic engineers to prepare for life after graduation.
"SHPE has allowed me to network and form connections across the country at the National Convention and Regional Conference, as well as develop my leadership skills," said Noelia Iribe, a senior in electrical and computer engineering. "There also is a mentorship program for SHPE alumni to help members succeed in their undergraduate careers."
Participating in these events and gathering at biweekly meetings helps SHPE members build a community on campus.
"SHPE is special to me because all our members, our familia, are all in this pursuit of getting a degree and reaching our goals together, whether that be industry experience or graduate school," Gonzalez said. "As engineering students, our courses can get difficult at times, and having a group that struggles and overcomes these struggles together is monumental."
Iribe agreed.
"The bond we have created within our chapter gives most of us that family-away-from-home feeling that we are seeking," she said. "We are able to support and motivate each other since we all know how hard engineering is and continue to uplift each other so we can all succeed in the end."
Members also emphasized the importance of SHPE as a safe space for Hispanic students and allies on campus.
"You're allowed to be who you are," Terrones said. "Things are difficult, but they're not impossible. If you're a first-generation student, there is no recipe ready for navigating college. We're bringing that experience to you to let you know it's possible to be successful."
Anyone, of any background or major, is welcome to join SHPE. The group meets biweekly on Thursday. Stop by, and you might just find your family away from home, too.
Sound like your next home? Apply to Mizzou Engineering today!