July 25, 2022
Seniors in the Department of Industrial and Manufacturing Systems Engineering conclude their coursework with a capstone project. These capstone projects apply what they've learned in their classes to a manufacturing, health care or logistics problem provided by real-world companies. Students meet and work with their assigned companies to come up with answers to improve efficiency, quality, cost effectiveness and safety.
Students work together in small groups and with company representatives to develop and justify engineering solutions within the constraints of real problems. This experience gives students the hands-on preparation they need to be successful after graduation.
Below are the IMSE capstone projects from the Spring 2022 semester (note: company data has been removed, but the general project overview is provided). Take a few moments to learn how industrial engineers develop solutions to real engineering problems.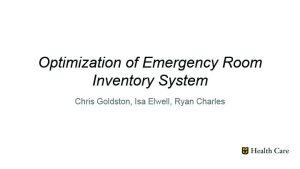 Capstone Team 1
Project: Optimization of Emergency Room Inventory System
Team Members: Chris Goldston, Isa Elwell, Ryan Charles
Objective: Restructure the emergency department periodic automatic replenishment room by utilizing 6S Audit, Simulation and satisfaction surveys to enhance the room's efficiency and time spent locating supplies.
---
Capstone Team 2
Project: Secondary Cell-Employee Maintenance Notification
Team Members: Will Mihm, Danielle Flieg, Drew Boswell
Objective: Reduce downtime and rework in PPL line caused by missed calibration by setting up a preventative maintenance cell-employee notification system.
---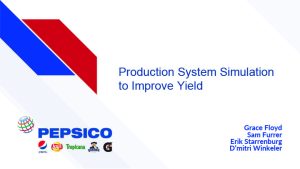 Capstone Team 3
Project: Production System Simulation to Improve Yield
Team Members: Grace Floyd, Sam Furrer, Erik Starrenburg, D'mitri Winkeler
Objective: Determine the number of poppers running to optimize the tradeoff between decreasing waste and system throughput.
---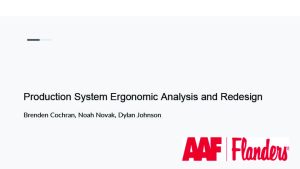 Capstone Team 4
Project: Production System Ergonomic Analysis and Redesign
Team Members: Brenden Cochran, Noah Novak, Dylan Johnson
Objective: Reduce the ergonomic stress index to 0, reduce the non-value-added time of the filter production and increase product production rate by 20%.