January 06, 2022
Students work together in teams to design, manufacture and test the product. This experience gives students the hands-on preparation they need to be successful after graduation.
Below are the MAE capstone projects from the Fall 2021 semester. Take a few moments to learn how mechanical engineers develop solutions to real engineering problems.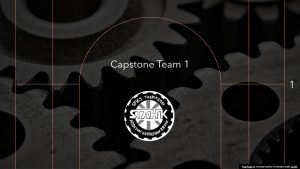 Capstone Team 1
Project: Wheel Mount System (PDF)
Team Members: Rebecca Thompson, Carrington Huddleston, Martin Spies, Val Addison, Morgan Kruse
Objective:
Design a wheel mount system that assists with the alignment and lifting process when changing.
---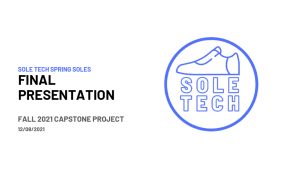 Capstone Team 2
Project: Sole Tech Spring Soles (PDF)
Team Members: Ben Barresi, Wyatt Fritsch, Tom Marsh, Chad Walrod, Jackson Meyer
Objective:
Integrate non-linear springs into a shoe attachment to increase walking efficiency.
---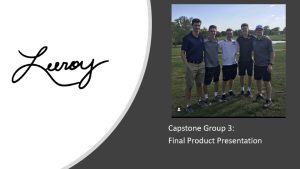 Capstone Team 3
Project: Leeroy Golf Putter (PDF)
Team Members: Ben Sayers, Stephen Molengraft, Barry Kuebler, Michael Molengraft, Michael Kuebler
Objective:
Design a high MOI putter that will help golfers with inconsistent stroke paths improve their putting game at a lower cost.
---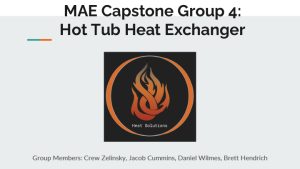 Capstone Team 4
Project: Hot Tub Heat Exchanger (PDF)
Team Members: Dan Wilmes, Brett Hendrich, Crew Zelinsky, Jacob Cummins
Objective:
Design a heat exchanger that is simple to setup and use, changes power source while still optimizing the rate at which heat is transferred and decreases the amount of time to heat up the water source compared to competitors.
---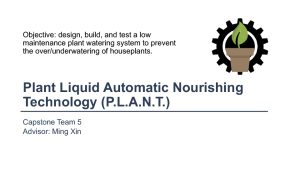 Capstone Team 5
Project: Plant Liquid Automatic Nourishing Technology (P.L.A.N.T.) (PDF)
Team Members: Olivia Decker, Riley Dodson, Alec Garrett, Brooke Runge, Sam Stoll
Objective:
Design a self-watering system that delivers a variable amount of water to meet specific soil needs for a wide variety of plant sizes.
---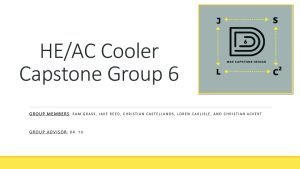 Capstone Team 6
Project: HE/AC Cooler (PDF)
Team Members: Sam Grass, Jake Reed, Christian Castellanos, Loren Carlisle, Christian Ackert
Objective:
Design a high efficiency air-conditioned cooler for food and drinks.
---
Capstone Team 7
Project: Clinch Sleeve Fabricator (PDF)
Team Members: Baicen Li, Christopher Williams, Jack Vuagniaux, Jonny Stever, Max Noelker
Objective:
Design a clinch sleeve fabrication method that provides quick setup, consistent results, faster manufacturing time and is computer controlled.
---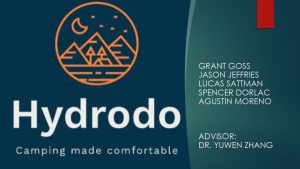 Capstone Team 8
Project: Hydrodo Portable Mister (PDF)
Team Members: Grant Goss, Jason Jeffries, Lucas Sattman, Spencer Dorlac, Augustin Moreno
Objective: Design a portable mister that uses evaporation to increase the efficiency of the radiator, can use a wide range of water sources and is cheap to produce and easy to operate.