March 09, 2023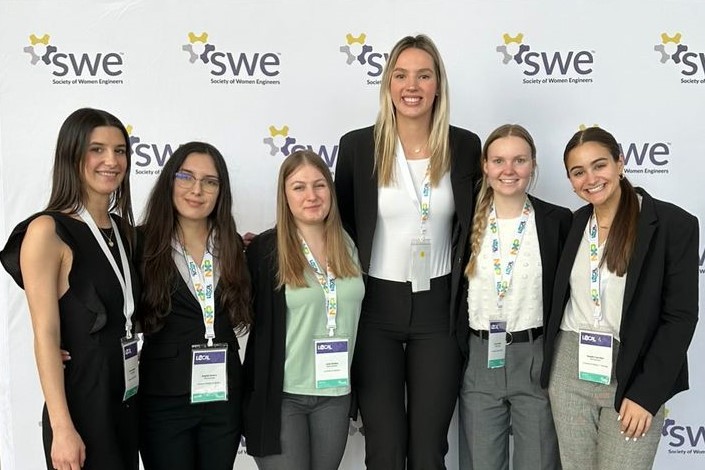 Mizzou's chapter of the Society of Women Engineers (SWE) fosters a community that empowers women in engineering while also inspiring future generations.
With SWE's national mission to empower women in engineering to be leaders in their academic and professional life, Mizzou SWE works to build a community that supports each other. At Mizzou, that community has nearly 200 students, from all 10 engineering disciplines, ranging from freshmen to graduate students.
"We're a welcoming organization that brings women in engineering together to support one another and help each other be successful throughout their academic and post-graduate career," said Natalie Camilleri, Mizzou SWE president. "I can happily say that I have met many of my best friends through SWE."
Every other week, Mizzou SWE organizes general meetings with speakers from engineering industries or within the University. These meetings provide members with opportunities to network and learn professional skills. Members can also attend conferences to network with SWE members from across the country. This February, six Mizzou SWE members travelled to the WE Local conference in Detroit, Michigan. And in March, they organize the Ada Wilson Green Tea Lecture on the second Saturday of Engineers' Week.
In addition to being an active community on campus, Mizzou SWE organizes outreach events for the wider Columbia and Missouri community, such as Girl Scout Day and Daughter Day, during which they show young girls what it's like to be an engineer. The variety of ways to get involved means there is a place for anyone within the organization.
"Some people come for the professional development and networking opportunities, some come to gain leadership potential, and some people even just come for the food and to take a break from classes," Camilleri said. "Anyone can be a member, men and students outside of the College of Engineering are welcome to join. There is a place for everyone in Mizzou SWE."
Clare Harmon, a senior biomedical engineering student and former SWE outreach officer, agreed.
"Our organization aims to provide a space for the empowerment of all engineers, including allies of any underrepresented group within the engineering industry," Harmon said.
The welcoming and inclusive community is something members value.
"Coming from a small town in Central Illinois, I desired to find within this large university that same sense of community and relationship I was accustomed to," Harmon said. "After attending my first SWE meeting, I knew I had found what I had been searching for. The members were incredibly welcoming and seeing how supportive they were for one another was truly inspiring."
Harmon says that the members of Mizzou SWE are what make it stand out.
"This chapter would not be what it is today without the talented and unique individuals it continues to support," she said. "While no two members come from the same circumstances or have had the same experiences as women in engineering, we are able to uplift one another in our educational and career efforts and in turn pave the way for the next generation."
Camilleri agreed.
"I have met some of my biggest mentors and role models through the org," she said. "The relationships and friendships I've formed will truly last a lifetime."
Want to earn an engineering degree while giving back to the community and gaining professional skills with your friends? Choose Mizzou Engineering today!