May 08, 2023
Four years ago, Ogheneobarome "Obaro" Emeje chose Mizzou to stay close to her family. Little did she know, she would find a second one once she arrived.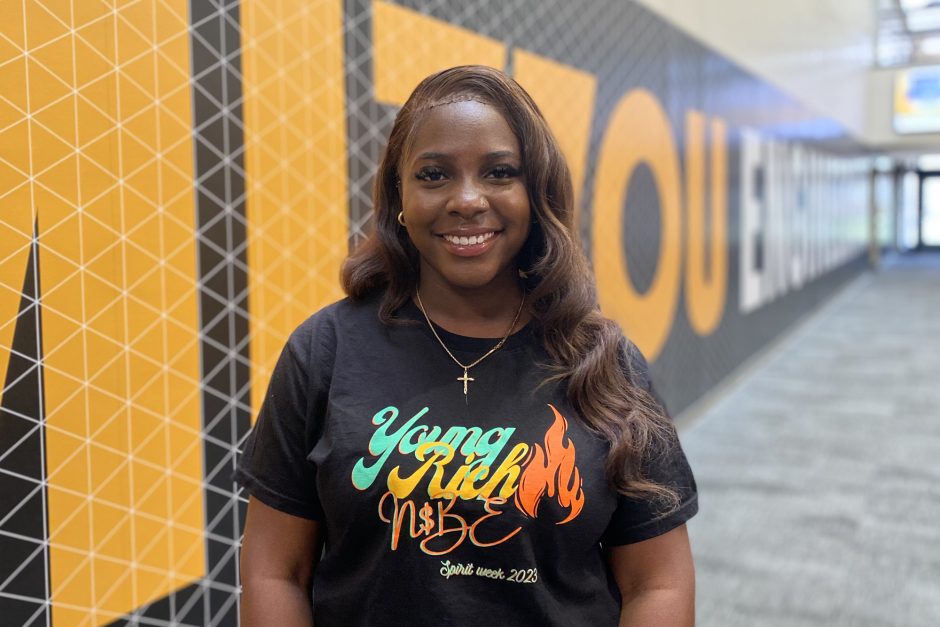 Story written by Audrey Brown | Show Me Mizzou
When Ogheneobarome "Obaro" Emeje was looking at colleges, her family encouraged her to study close to home. Her dad advocated for her to become a Tiger because of strong program offerings — and the fact he could easily drive from the family's home in St. Louis to campus.
Four years later, the soon-to-be graduate said she's thankful for her dad's small push toward Mizzou and all of the subsequent trips he made to visit her in Columbia. Emeje will graduate this week with a degree in biomedical engineering and a wide range of experiences in her rear-view mirror.
Read on for a Q&A with Emeje about her Mizzou experience.
What have been your favorite opportunities at Mizzou?
My research and capstone course have been my favorite activities here.
I actually got into research because of my sister. She was a psychology student at Mizzou and was involved in research. As a freshman, I started working with Dr. Zheng Yan in a biosensory lab. My portion of the lab focuses on sweat sensors, and our overall goal is to make a wearable device that will provide real-time monitoring of a range of physiological signals .
My engineering capstone project focused on accurate wound measurements. We met with a professional to sell the product to, and he told us about the requirements that he wants for the device. Having that hands-on experience allows you to apply what you learn in class, and it gave me an idea of what the world will look like after I graduate.
How else have you been involved on campus?
I'm in the African Student Association and I'm also involved in Thrive, a student group working to make our classes more inclusive and make sure professors understand our viewpoints. I was also an engineering ambassador, so I gave out tours to the incoming students and answered their questions.
This year, I am president of the National Society of Black Engineers (NSBE), and it is a task that I was not expecting. I didn't originally want to be president, but I'm glad I took on this role because it helped me become a better leader.
How has Mizzou prepared you for the next chapter in life?
Because of Mizzou and NSBE, I've already got job offers and have been accepted to graduate school. I'm weighing my options — do I go to graduate school, or do I go to this job opportunity? Right now, I'm still deciding.
Other Mizzou resources that I initially didn't know about — like the free tutoring, office hours, the Women's Center and the Wellness Resource Center — also really helped me.
What is your favorite Mizzou memory?
My favorite Mizzou memory is being with my NSBE family. They're my friends, but they're really a family to me, and I can call them for anything. No matter what we do, we always laugh or something fun always happens. We always have a good time regardless of where we are. They've really shaped my experience at Mizzou.
This story was originally published in Show Me Mizzou.