November 17, 2023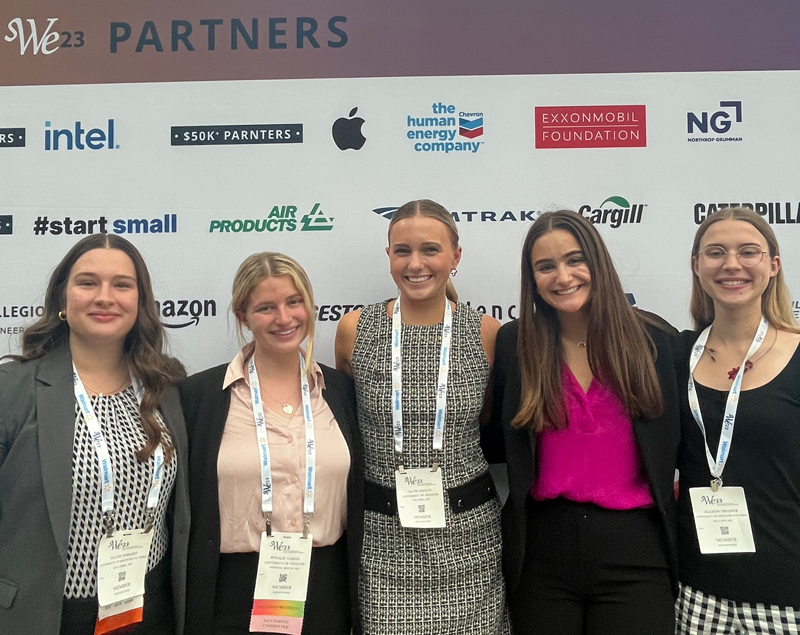 Nine Mizzou Engineers traveled to Los Angeles in October to explore career paths, network with professionals and learn what it means to live without limits.
Members of the Society of Women Engineers (SWE) attended WE23, the organization's national conference, which attracted more than 20,000 attendees.
"The theme of the year was 'Live Without Limits,' so we were inspired by stories of amazing women in engineering who have persevered through challenges to reach amazing heights," said Rosalie Garzia, SWE president and a biological engineering student. "One of the main lessons of the keynote speaker was to 'be brave, not fearless.' To me, this means that even though something may be outside of your comfort zone, pushing yourself beyond that limit is where huge accomplishments can be made. It is inspiring to see the achievements of women who are pushing the boundaries of technology."
The national conference also includes the world's largest career fair for women engineers and technologists with more than 500 exhibitors. Attendees were able to explore career opportunities and interview for positions, with many receiving offers, Garzia said.
And breakout sessions focused on an array of topics exposed attendees to specialized engineering applications, said Riley Heckenkamp, vice president of SWE and a biomedical engineering student.
"I gained insight into diverse engineering opportunities and discovered innovative ways to apply my degree," she said. "My personal takeaway is that engineering degrees can be applied in almost an infinite number of ways. One example that I learned was that there are cybersecurity analysists and engineers who work to prevent cyberattacks on pacemakers and deep brain simulators."
Women represent about 17% of all engineers in the U.S. That's why it's crucial for women studying engineering to get involved in organizations such as SWE, Garzia said, stressing that membership is open to anyone.
"It's extremely important to find your community and grow your support system at Mizzou," she said. "SWE hosts speakers at our biweekly meetings to speak about their experiences in Engineering as well as highlight a professional development topic to teach to our group. To further drive the sense of community, SWE has a mentorship program where Mizzou Engineering graduates give back by offering guidance to upperclassmen, and upperclassmen are paired with underclassmen to help them navigate the challenges of engineering school."
General SWE meetings are held 6 to 7 p.m. every other Thursday in Ketcham Auditorium. All Mizzou students can attend.
Once involved, Garzia recommends attending the national conference, which was financially supported by sponsors RSM, Tradebot and Black & Veatch. SWE members Clare Harmon, Alison Scrivner, Katie Bagley, Allison Drainer, Natalie Camilleri, Sofia Valiani and Ellise Wright also attended this year.
"The nine of us became a more close-knit group and had a ton of fun exploring Los Angeles," Garzia said. "This is my third SWE conference, and I can remember lessons from the keynote speakers at my very first one. With every passing conference, I've had the opportunity to learn even more."
Earn a degree while being a part of supportive organizations such as SWE. Apply today!