February 22, 2021
Contact: Eric Stann, 573-882-3346, StannE@missouri.edu

In the ongoing battle to find ways to treat cancer, a team at the University of Missouri is addressing the problem from multiple angles, but with a precision approach.
Cancer patients are often given chemotherapy, cancer-fighting drugs that kill cancerous cells and can also have harsh effects on healthy cells. But with recent developments in medical technology, researchers have started developing targeted approaches known as precision medicine, and the new treatments can cause less collateral damage to the body.
Supported by a recent $200,000 grant from the Midwest Biomedical Accelerator Consortium, or MBArC, MU researchers Bret Ulery, Mark Daniels, Donald Burke and Jeffrey Bryan are working to develop a precision medicine approach for targeting hematological cancers, like leukemia and lymphoma. Together, they bring expertise from several different areas of MU's campus — Ulery with the College of Engineering; Daniels with the School of Medicine; Burke with the Christopher S. Bond Life Sciences Center and School of Medicine; and Bryan with the College of Veterinary Medicine.
"We're bringing people together with complimentary expertise in distinct areas and across many different colleges," said Ulery, an associate professor in the Department of Biomedical, Biological and Chemical Engineering and principal investigator on the project. "If we're going to address these really big clinical problems in medicine, then we need to realize that we're better off working together instead of separately."
Targeting cancer with precision medicine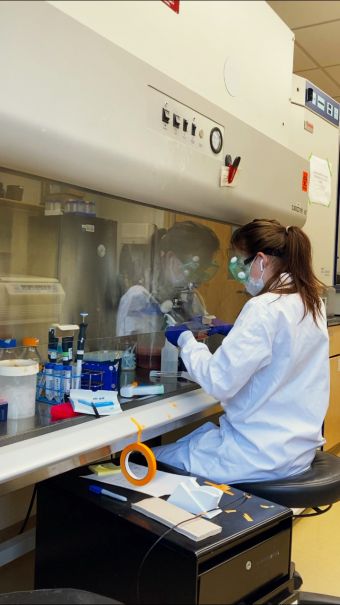 When Ulery interviewed for a faculty position at MU in 2014, he met Daniels, an associate professor in the Department of Molecular Microbiology and Immunology. Daniels had been working to fight cancer using an approach that required therapeutic delivery inside cells, and Ulery had experience creating various drug delivery systems. Once Ulery joined MU's faculty, he and Daniels began working together to develop a technology that could treat cancer more precisely than traditional chemotherapy.
"Both of us were thinking the same thing: this would be a really cool avenue to leverage a really awesome biological discovery that Mark had made and use our technology to engineer a way to deliver this drug," Ulery said.
Meanwhile Burke, a professor with joint appointments in the Department of Molecular Microbiology and Immunology, Department of Biochemistry, and Department of Biomedical, Biological and Chemical Engineering, was developing an approach to ensure cancer drug treatments arrive at a specific tumor. Burke joined Daniels and Ulery in their project in winter 2015.
"We're attempting to move beyond traditional chemotherapies, which distribute drugs widespread throughout much of the body, and instead have them accumulate right where they are needed at the specific tumor site," Burke said.
Burke, Daniels and Ulery needed a way to test their approach outside of a cell culture in a laboratory, so they asked Bryan, a professor of veterinary oncology in the College of Veterinary Medicine and associate director of comparative oncology at the Ellis Fischel Cancer Center, to join the effort. Bryan had been developing treatments for animals with cancer and finding ways to translate those discoveries to human medicine.
According to Bryan, their precision medicine approach can focus therapeutics to specific areas in the body, while more specifically targeting cancerous cells and leaving healthy cells alone. The team hopes their approach could one day be adapted for a wide variety of different cancers employing various types of treatments.
"We can increase the ratio of the drug going to the cancer, compared to the other sensitive tissues, so the drug is harder on the cancer cells and easier on the body," Bryan said. "It's like sending it to a specific zip code, instead of sending a mass mailing to the entire town."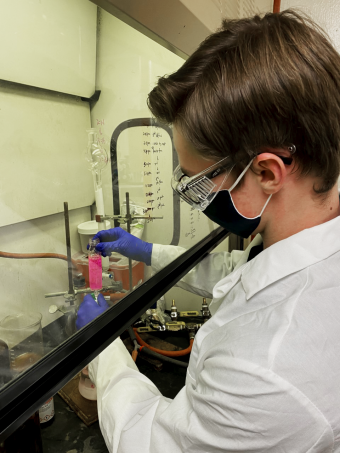 "Scientists for a long time have allowed themselves to be stuck inside of silos," Daniels said. "One of the goals of the precision health initiative is to get us to talk to each other. We're really a good example because we have such a diverse range of expertise that has come together to solve one common problem."
Helping people and pets
The next step for the project is to start clinical trials in dogs through the College of Veterinary Medicine. By administering the treatment to dogs, it also will benefit animals with cancer.
"Fifty percent of dogs over the age of 10 die of some form of cancer, and the major form of cancer is B-cell lymphoma," Daniels said. "So, as we're trying to develop this treatment for humans, we're actually developing a treatment that can also be used to help these animals."
According to Ulery, watching how animals respond to the treatment will allow the team to figure out how to best tailor their approach to human patients.
"Our canine and feline companions are exposed to the same environments we are, whether that's smoking, environmental hazards or diet, and are closer in size to a person," Ulery said. "Being successful in this really diverse population of pets is so much more predictive towards success in human patients."
MBArC is an NIH-funded hub that provides funding, training and education to researchers to move discoveries made in research labs into products that improve health as quickly as possible. This is the first year MBArC has awarded grants to biomedical projects at MU and partner institutions across the Midwest.