August 12, 2021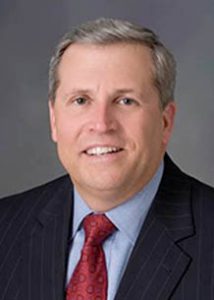 Bob Bloss '77 has received the 2020 James E. "Bud" Moulder Distinguished Alumni Award as part of Mizzou Engineering's Hall of Fame. Those who have worked closely with Bloss say it's a fitting tribute that recognizes his leadership skills, mentorship and commitment to the College.
"It's obviously a great honor to be recognized by some of your peers from school and work," Bloss said. "People like Moulder and the Lafferres and some of the other people who have been part of the engineering school over time — to be considered even in the same breath as them is pretty special."
Bloss, who earned a bachelor's in industrial engineering, spent nearly a decade in various engineering and management roles at Colgate-Palmolive before joining Hallmark Cards in Kansas City. Over his 32-year career there, he held a number of administrative and leadership positions, including senior vice president and chief human resource officer.
In that capacity, "Bob literally affected every employee at Hallmark and always did so with a combination of skilled professionalism and personal compassion necessary for the position," a former colleague wrote in a letter supporting his nomination for the award. "He's simply in that class of 'best people you could ever meet.'"
Another former Hallmark coworker praised him for cultivating a positive workplace culture, earning Bloss respect and appreciation throughout his career.
At Mizzou Engineering, Bloss has invested both time and funds. He served on the Dean of Engineering Advisory Council and has been involved with the Industrial and Manufacturing Engineering Department (IMSE). He and his wife, Pam, were early contributors to a new IMSE Hall of Fame Faculty Endowment earlier this year to support teaching and research, and they invested in the Robert C. and Pamela K. Bloss Faculty Enhancement Fund, which they established in 2012. The couple also recently created a preservation fund for the School of Nursing, where Pamela earned her degree in 1978.
Bloss was elected as president of the IMSE Hall of Fame group in 2019 and worked with other officers to significantly increase participation and development.
"These are traits that Bud Moulder would identify with and want to recognize in fellow College of Engineering alumni," according to Bloss's nominator.
A foundation for success
Bloss considers giving back to Mizzou Engineering a "labor of love."
"I've always been very grateful for what my engineering degree has given me as a background and a basis for the career I have had and the work I've done," he said.
Bloss especially thinks back fondly on Larry David, a former IMSE chair and professor who passed away in 2019, and Dave Wollersheim, a professor emeritus in mechanical and aerospace engineering. Both helped him decide to pursue industrial engineering, which he used during his years in leadership. Bloss's son, Justin, who earned a bachelor's in mechanical engineering in 2004, also had both professors during his time at Mizzou Engineering.
"There were others, too, who were very special to us," Bloss said. "I'm very thankful for them for my long career in the business world. I've had a great career, and I owe it all to Mizzou as a school and certainly engineering."
That's one reason Bloss encourages other alumni to consider becoming more involved with the college. Even those unable to make financial investments or commit time to come to campus can play a role in supporting Mizzou Engineering, he said.
"I think younger graduates don't realize until after they work a bit what their education has done for them and how many doors and opportunities it's opened for them," he said. "Think about ways to be a part of the school or connecting back with your department or even just asking how you can be more involved, even if it's helping recruit students in your hometown to Mizzou Engineering."
Bloss, along with the other 2020 and 2021 award recipients, will be honored by Mizzou Engineering on Friday, September 17.