December 13, 2021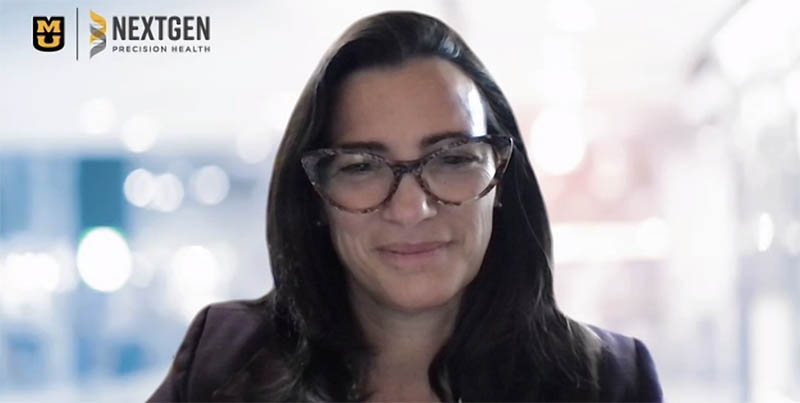 From the development of home sensors that monitor vital signs to computational modeling of the human brain, there are numerous intersections between engineering and health care. That's why Associate Dean for Research Giovanna Guidoboni urged faculty across campus to partner with Mizzou Engineering as they seek to revolutionize health care.
Guidoboni was the featured presenter at this month's NextGen Precision Health Discovery Series, which aims to foster collaboration between researchers working in health-related fields.
During her talk, Guidoboni outlined various ways engineers are already working with medical collaborators on innovations around diagnosing, treating and monitoring diseases, as well as analyzing data from medical records.
Some examples she presented:
Giudoboni and Curators' Distinguished Professor Marjorie Skubic are working with collaborators from the School of Medicine to develop a way to better identify cardiovascular dysfunctions through non-invasive sensors. The research is showing that ballistocardiography provides information that is reliable, accurate and robust, even for critically ill patients.
Associate Professors Diana Gil Pagés and Adam Schrum, who have appointments in biomedical, biological and chemical engineering, are working at the Roy Blunt NextGen Precision Health building to develop cancer treatment and immunotherapy.
Curators' Distinguished Professor Dong Xu and Professor Jianlin "Jack" Cheng, both in electrical engineering and computer science (EECS), are bioinformatics experts who have come up with novel ways to predict protein structures, which could lead to the development of new prescription drugs.
EECS Professor Chi-Ren Shyu uses geospatial data to help track populations and associated risks of diseases and viruses such as COVID-19.
Associate Professor and Associate Dean Roger Fales helped design a device that can deliver oxygen automatically to premature babies in neonatal intensive care units. Fales and co-inventor, Dr. Ramak Amjad, a neonatologist at Studer Family Children's Hospital in Pensacola, Florida, developed the device, which is now in clinical trials in research with collaborator Dr. John Pardalos, a neonatologist at MU's Women's and Children's Hospital.
EECS Professor Satish S. Nair and researchers in his Neural Engineering Lab work on ways to mimic complex details of brain cells, waves and functions using computational models.
Associate Professor and Greg L. Gilliom Professor of Cyber Security Prasad Calyam's work around cyber defense and cloud computing is expected to help keep medical records and data at NextGen secure.
And Professor Kannappan Palaniappan has used techniques developed around aerial imaging to also help automatically segment and cells in images from microscopy video images.
In all cases, engineers can take fundamental principles of physics and convert those with physiology, Guidoboni said. For instance, just as complex systems run water through pipes in our homes, complex vascular systems pump blood through veins in our body.
"Techniques that may be relevant for the design of aircrafts may also be important for the design of sensors to monitor cardiovascular function," she said. "You may have people who are interested in something but don't realize they are already doing something relevant to that area."
To see where research might align, she urged attendees to refer to Mizzou Engineering's Research Directory and to feel free to reach out to engineers whose work sounds interesting.
"In my opinion, MU is one of the most supportive campuses when it comes to cross disciplinary collaboration, and NextGen is proof of this," Guidoboni said.
"NextGen will become a hub for ground-breaking research that spans across all disciplines. When we can converge and bring expertise together, we can have an impact, taking basic science back to the people who will benefit from it."