August 23, 2021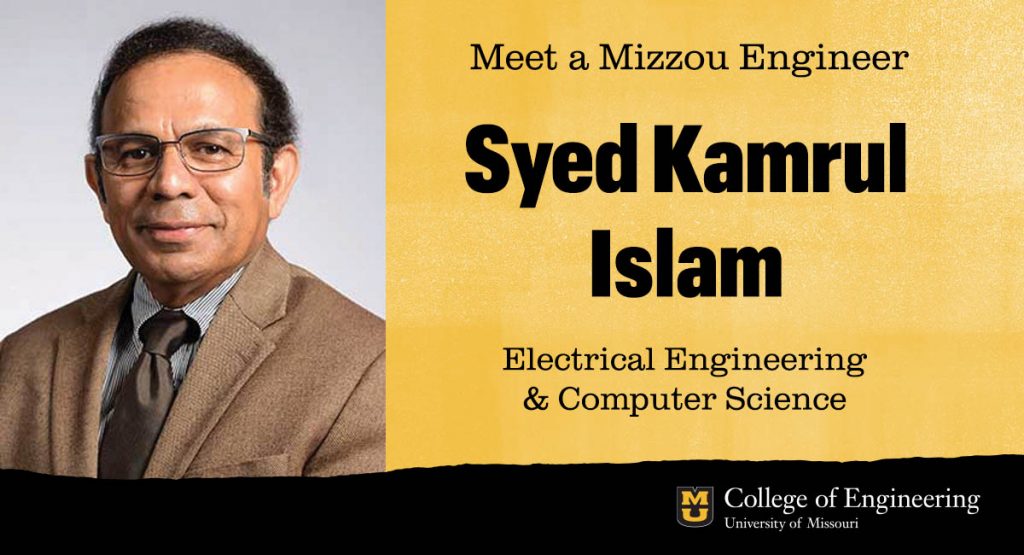 Low-power biomedical devices have the ability to transform human health, from identifying chronic kidney disease to predicting diabetes and detecting respiratory issues. At Mizzou Engineering, you'll find that work happening in the Analog/Mixed Signal and Devices Laboratory in the Department of Electrical Engineering and Computer Science (EECS). Meet Syed Kamrul Islam, who's at the helm of both.
When he's not working with students to develop life-changing wearable devices, Islam serves as chair of EECS, a position he's held since 2018. Islam was brought in to unite computer science and electrical engineering, two disciplines that merged into one department the year before.
"They were looking for someone with experience in EECS to help with the transition," he said, describing his leadership style as all-inclusive. "I try to build consensus among everybody."
That collaborative spirit has proven key. On his watch, EECS has grown in research awards and expenditures, academic programming and student enrollment. The number of students from historically underrepresented populations has increased, as well. And this year, the department is adding several new faculty positions to allow for further growth in research both in traditional studies and emerging areas such as machine learning, quantum computing and cybersecurity, all with an emphasis on interdisciplinary collaboration.
"We're on an upward trajectory, even during the pandemic," Islam said. "EECS is diverse. We work with the MU School of Medicine, Trulaske School of Business, the Mathematics Department and a lot of collaborators. I feel good about where we are."
A legacy of learning
Academia comes naturally to Islam. Both of his parents were schoolteachers. His elder brother is a retired English professor; one of his sisters a retired schoolteacher, and another brother started his career as an economics professor. He says his mom had the toughest gig — teaching younger students at a junior school in Bangladesh.
Growing up, Islam preferred the sciences, namely physics. As a youth, he discovered the works of Satyendra Nath Bose, an Indian physicist known as the father of boson particles — or the "God Particle."
"Professor Bose's works inspired me to explore particle physics which got me interested in semiconductor physics, which led me to physical electronics," he said.
Islam earned his bachelor's in electrical engineering from Bangladesh University of Engineering and Technology — one of the best engineering institutes in the world. He graduated at the top of his class, which earned him his first job as a lecturer teaching undergraduate students there.
Islam went on to earn both his master's and PhD at the University in Connecticut and worked in industry for a brief period before his first faculty role at the University of North Florida in Jacksonville. After five years there, he went to the University of Tennessee, where he took over an established analog, mixed-signal circuit design lab. His research team was highly productive, publishing a book, hundreds of papers and presenting at prestigious conferences across the globe.
Building a legacy at Mizzou
While his focus at Mizzou has been on establishing EECS as one department, Islam has also begun to build up his research here. Over the past several years, he and his students have worked on finding ways to develop more efficient monitoring systems and biomedical devices.
His students have won numerous awards for using machine learning models that can be embedded in digital hardware and used for small devices to detect medical problems such as sleep apnea, cardiac issues, respiratory problems and diabetes. One of his advisees, Omiya Hassan, recently received a Graduate Fellowship Award from the Institute of Electrical and Electronics Engineers Instrumentation & Measurement Society.
"We have smart, hard-working students," Islam said. "They make me feel good about coming to the office every day."
Islam also pays attention to students who may struggle with the complicated concepts embedded in EECS's curriculum. He's interested in finding new ways to mentor students and provide a smooth path from undergraduate studies to graduate school. That's why he and EECS faculty created the new accelerated BS to MS program, allowing juniors and seniors to start taking graduate-level courses alongside their undergraduate classes in order to complete a master's degree faster.
EECS is also home to two Research for Undergraduates (REU) programs. Funded by the National Science Foundation, these prestigious summer programs give undergraduate students from around the country the opportunity to explore research in hopes that they'll continue on to graduate school.
"We need more programs like that," Islam said. "It's important to provide students with a pipeline."
EECS has also recently added new certificate programs, allowing current students to delve deeper into niche subject areas such as machine learning or neural engineering. Working professionals can also enroll in the certificate programs to boost their skills and resumes.
Communicating the science
For Islam, unifying and growing EECS at Mizzou Engineering isn't enough. He wants everyone to know about the cutting-edge research happening in the department. After all, EECS is home to the prestigious Geospatial Intelligence Center (CGI) which has garnered more than $40 million in awarded grants and contracts from a diverse group of agencies. And last year, EECS became home to another of the College's Featured Research Centers, the Center for Cyber Education, Research and Infrastructure, or Mizzou CERI. Altogether, EECS has about 20 faculty labs, with plans to establish more, including a lab in Internet of Things (IoT).
Over the past year, Islam has worked to promote the department to partners, prospective students and peers.
"We are doing great work here, and I'm proud of what we've accomplished," he said. "The department has grown, and I'd like to see the perception and reputation of EECS at Mizzou continue to grow, too. I want everyone to know we have outstanding faculty, students and alumni."