March 15, 2021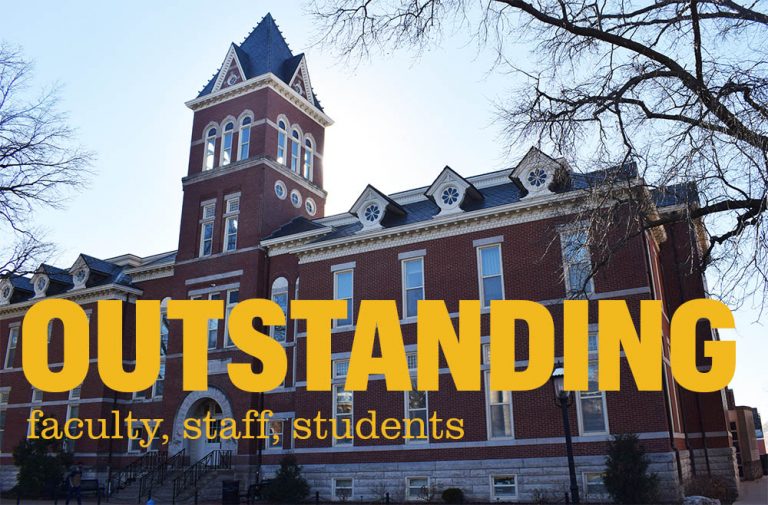 Mizzou Engineering has recognized faculty, staff and students for outstanding performance and dedication to the College. Winners were surprised today with virtual announcements and personal messages from interim Dean Noah Manring.
"These individuals go above and beyond, serving as role models for their colleagues and peers," Manring said. "I'm thrilled to recognize their successes and truly appreciate everything they do for the College."
Faculty & Staff Awards
Three faculty from Electrical Engineering and Computer Science and one from the Information Technology Program won this year's outstanding faculty awards.
Jianlin "Jack" Cheng, EECS professor, received the Outstanding Senior Faculty Research Award.
Prasad Calyam, EECS associate professor, received the Senior Excellence in Teaching Award.
Grant Scott, EECS assistant professor, received the Outstanding Junior Faculty Research Award.
Ronny Bazan, IT assistant teaching professor, received the Junior Excellence in Teaching Award.
Tami Beatty, an academic advisor in student services, received an Outstanding Staff Award.
Alysia Beaudoin, grants and contracts administrator in the research office, received an Outstanding Staff Award.
Jianlin Cheng, Senior Faculty Research Award
Cheng is recognized as a pioneer in the field of protein structure prediction.
His research group has developed a number of software tools for analyzing protein structures and functions, biological sequences and networks and 3-D genome structures, techniques that are used by scientists around the world.
This past year, Cheng's team was among the top 10 at a global competition among researchers studying protein predictions.
Cheng is also affiliated with the MU Institute for Data Science & Informatics, the National Center for Soybean Biotechnology, the Interdisciplinary Plant Group and the Bond Life Science Center.
Prasad Calyam, Senior Excellence in Teaching Award
Calyam teaches courses around cloud computing, cyber and software automation in neuroscience and cyber defense. The courses involve innovative use of technology in the classroom, introducing students to innovative platforms and providing hands-on experiences to reinforce foundational concepts.
Calyam, the Robert H. Buescher Faculty Fellow,  is a senior member of the Institute for Electrical and Electronics Engineers (IEEE) and has received recognition as a Top Faculty Achiever at MU. He is director of the Mizzou CERI Center for Cyber Education, Research and Infrastructure. And he oversees a Research Experiences for Undergraduates program funded by the National Science Foundation (NSF).
Grant Scott, Junior Faculty Research Award
Scott ranks among the top researchers at Mizzou Engineering based on his shared credit research expenditures.
He is a co-leader for AI Data Management on a large MU team for the NSF Integrative and eXplainable AI Institute. He is founding director of the Data Science and Analytics (DSA) master's program at MU and serves as the program manager of MU's Study in Data Science training contract for the National Geospatial-Intelligence Agency.
He also coordinates STEM activities at MU, including delivering tutorials to a variety of audiences through innovative teaching and technology.
Earlier this year, Scott was named one of the top data leaders in the world.
Ronny Bazan, Junior Excellence in Teaching Award
Bazan teaches computer network security, computer system administration and cybersecurity courses in the IT Program.
He also developed an undergraduate certificate in cybersecurity, and last semester helped start a cyber organization for students.
In evaluations, students praise him for using effective teaching strategies specific to the subject material and for being responsive and engaged.
"This course really brought together the 'why' behind all of my other courses," one student wrote. "The skills learned in this course are applicable to all of my other projects, both inside and outside of school."
Tami Beatty, Outstanding Staff Award
Beatty is an academic advisor who focuses on electrical engineering, computer engineering and industrial engineering programs. She plays a
large role in the Freshman Student Success courses the advising team teaches every fall, and has become the liaison between the Advising Office and the Office of the Registrar.
Alysia Beaudoin, Outstanding Staff Award
Beaudoin is the grants and contracts administrator in the research office. Faculty and grant staff across campus and collaborating institutions have come to rely heavily on Beaudoin, as she understands the complex details, rules, regulations and guidelines around grant proposal submissions.
Student Awards
Faculty from Mizzou Engineering's departments and programs recognized the following students for outstanding achievement.
Biological Engineering
PhD: Janae Bradley and Zhe Zhang
Senior: Sarah Thompson
Junior: Veronica Fritz
Biomedical Engineering
Senior: Amanda Wilt
Junior: Bella Bowers
Civil Engineering
PhD: Maged Shoman
MS: Matthew Martin
Senior: Britt Smith
Junior: Matt Pinner
Chemical Engineering
MS: Bryce Lindaman
Senior: Lauren Baratta
Junior: Brandon Lee
Computer Science
PhD: Jian Kang
MS: Dongpeng Liu
Senior: Rebecca Shyu
Junior: Olivia LaVal
Electrical and Computer Engineering
PhD: Omiya Hassan
Junior: Rushil Thakker
Electrical Engineering and Computer Science
Industrial and Manufacturing Systems Engineering
PhD: Han Shih
Master's: Md. Shoriat Ullah
Senior: Nathan Smith
Junior: Peyton Mocco
Junior: Sienna Schreiber
Information Technology
Senior: Ashley Rolf
Junior: Brian Jiang
Mechanical and Aerospace Engineering
PhD: Huy Nguyen
MS: Venkata N.L. Peruri
Senior: Anna Merkel
Junior: Kendall Feist