November 11, 2021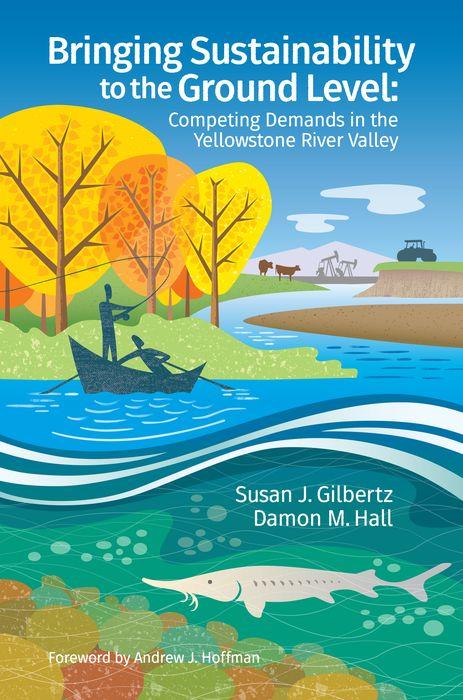 Sustainability is a global challenge that's going to have to be addressed at the local level. That's a key takeaway from a new book co-authored by Mizzou Assistant Professor Damon Hall.
"Bringing Sustainability to the Ground Level: Competing Demands in the Yellowstone River" provides a case study for how communities can protect their environments while still preserving their economies and ways of life.
Hall — who has joint appointments in biomedical, biological and chemical engineering and the School of Natural Resources — is publishing the book next month with co-author Susan Gilbertz, a professor of geography at Montana State University in Billings.
It's the culmination of 15 years of research Hall and Gilbertz have conducted for the U.S. Army Corps of Engineers along the nearly 700-mile Yellowstone River.
While it's specific to that region, the concepts are universal and can be used to help readers think through the dynamics of pressing sustainability challenges and envision how seemingly opposing sides can come together to find acceptable solutions, Hall said.
"Complex systems have environmental and ecological dimensions, economic dimensions and social, community and cultural dimensions," he said. "How are we to manage a largescale system or any problem related to sustainability in a way that equally considers these three aspects? For example, we're thinking simultaneously about economic attributes, as well as the environment we're all dependent upon, while also thinking about the society of people who are expected to carry out rules that we agree on and the flourishing of the people who live there."
Issues around management of the Yellowstone River were brought to the forefront in the 1990s. Back-to-back historic floods in 1996 and 1997 prompted landowners along the river to seek permits to stabilize the river banks along their properties. The Corps granted permits for those projects, resulting in the construction of bank stabilization structures like riprap, rock placed on the bank to reduce erosion, without considering how those structures would impact the functioning of the river and other river uses, such as recreational fly fishing that is critical to local economies.
Following a court challenge, the Corps began studying all aspects of the river, including the geology, hydrology and ecosystems.
In 2006, as part of that work, Hall and Gilbertz interviewed 313 landowners, farmers, civil leaders and business owners residing in the Yellowstone River Valley. A decade later, after more flooding as well as oil spills, they returned to the area to do follow-up interviews and to gauge changes in perspectives through 140 additional conversations.
"Bringing Sustainability to the Ground Level" is written mostly as a case study textbook with business students in mind; however, Hall said it would also be a helpful case study for students studying environmental science, public policy or any kind of complex system."Those one-on-one interviews mattered because there was so much conflict among different users of the river system," Hall said. "But the consensus was, 'We all love the Yellowstone River,' and that's where you have to start. That's great as a starting point because we agree that we value this resource, and we want to do right by it. We want to continue to use it for irrigation. We want to continue to use it for recreation. We want to use it, and we need to figure out how to do so in a way that doesn't harm the ability of others to use it, not just now but 100 years from now."
It's also designed to be accessible to the general public, as it weaves together hundreds of unique voices, putting a face on sustainability issues.
"Oftentimes as a matter of convenience, cost or efficiency, local voices get scripted out," Hall said. "We're putting them back in because that's where it starts and stop. If you're going to do anything that matters, you have to get others to go along with you. It's great to be able to take a very academic and policy-oriented product, and hand it over to a different set of readers. Using this case study to introduce readers to unpacking real-world sustainability challenges is rewarding."