November 06, 2023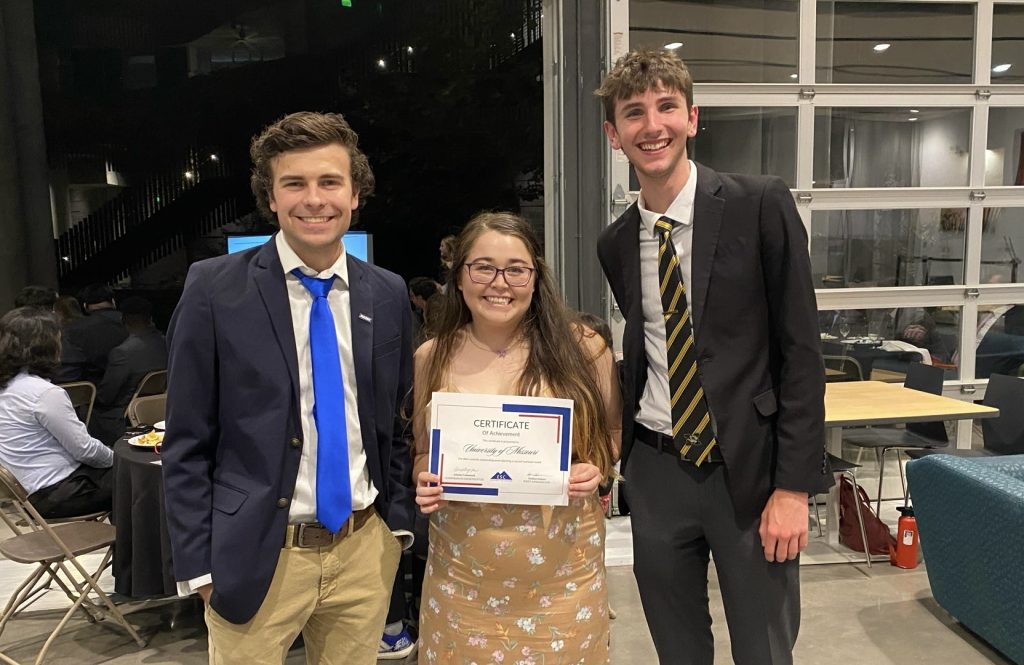 Mizzou Engineering Student Council (MESC) was recognized at the National Association of Engineering Student Council West Conference for exceptional outreach efforts.
"Seeing the College of Engineering's Student Council receive national recognition brings such a sense of pride and accomplishment," said MESC President Elly Smith. "I am incredibly grateful to have such a dedicated and driven leadership team that works tirelessly to make an impact on the surrounding community. I look forward to seeing what MESC continues to do for Columbia as our outreach continues to grow."
Members of the organization received the award at the University of Arizona, where they also met students from other engineering student councils. During the weekend, they participated in leadership workshops, learned about other councils' activities and toured the university's research laboratories.
Marissa Moore, a junior in chemical engineering and Vice President of External Relations for MESC says that they won the Best Outreach Award, in part, for their annual participation in the Rootin' Tootin' Chili Cookoff for the Columbia Boys and Girls Club.
"The Chili Cookoff is a cherished tradition, aligning with our core values of service and community engagement," Moore said. "Our dedicated involvement in this event spans a full day of preparations, from booth setup to the meticulous crafting of delectable chili, which we proudly serve to a multitude of enthusiastic attendees. Beyond its philanthropic aspect, the Chili Cookoff enables us to connect with the broader community of Columbia, Missouri. This not only includes the children supported by the Boys and Girls Club, but also other participating businesses such as banks, engineering firms and local news stations."
Throughout the year, MESC is dedicated to promoting student involvement, fostering the student-faculty interactions and supporting the engineering student body. The organization is organized into committees dedicated to community outreach, diversity, equity and inclusion initiatives, and engagement.
"MESC's service committee has gone through an immense transformation through the leadership of our past Director of Service, CeCe Herwig," Moore said. "She led her committee by example and encouraged each member to plan their own service event. The award proves how hard our Service Committee has worked this past year. It has grown from a small branch of MESC to one that most of our members want to be a part of."
This year's lineup of service events includes dog walking for a local animal shelter, a canned food/needed items drive, and of course, the Rootin' Tootin' Chili Cookoff. The organization also puts on student events, including the New Student BBQ, and various professional and networking events throughout the year.
Earn an engineering degree where students get involved in the local community. Choose Mizzou Engineering!