September 14, 2023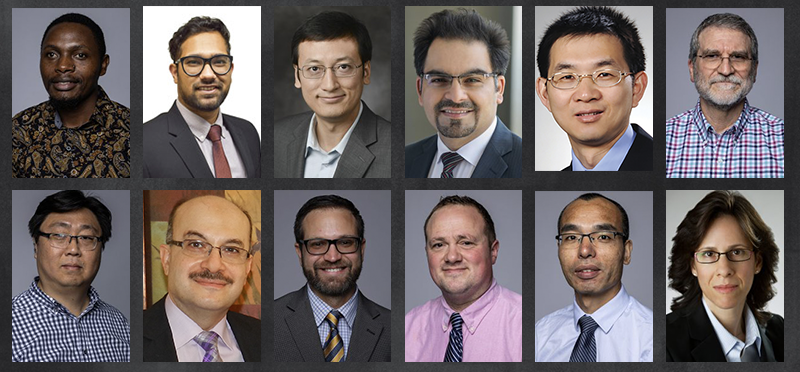 Bio-inspired materials, sustainable energy, autonomic computing and advanced manufacturing are just a few of the areas of expertise new faculty members are bringing to Mizzou Engineering.
These outstanding researchers and educators are poised to help the College usher in a new era of scholarship, discovery and innovation.
Joining the college since January are:
James Ogechi Kereri is an assistant teaching professor in civil and environmental engineering. Kereri previously worked as a construction manager with a record of success overseeing all phases of multimillion-dollar construction of residential and commercial projects. His research interests are in relationship management, relational contracting, construction project team behaviors, quality and construction labor issues including safety and other emerging workforce-related topics. He has a Ph.D. from Louisiana State University.
Punyaslok Rath is an assistant research professor in the Department of Civil and Environmental Engineering. His focus is on asphalt materials, specifical in asphalt material characterization in the Missouri Asphalt Pavement and Innovation Lab. He earned a Ph.D. from the University of Missouri.
Feng "Frank" Xiao is an associate professor of civil and environmental engineering. His research focuses on water and soil quality engineering, including disinfection byproducts and black carbon. He is leading an interdisciplinary team to address questions around the fate and transport of PFAS, remediation technologies and new analytical tools. He has a Ph.D. from the University of Minnesota.
Hessam Yazdani is an associate professor of civil and environmental engineering. He is the director of the Sustainable Infrastructure, Geotechnics and Materials Research Lab and specializes in geotechnical engineering, experimental and computational multiscale mechanics of material, reliability analysis, machine learning and optimization. He has a Ph.D. from the University of Oklahoma.
Xiaohua Liu is a professor in the Department of Chemical and Biomedical Engineering. He comes to Mizzou from the Biomedical Science Department of Texas A&M University College of Dentistry. Liu's research has been recognized in the field of biomaterials for dental and craniofacial application. His research focuses on the development of bio-inspired materials, the development of biomimetic approaches for bone repair and regeneration and the development of new tools to control stem cell-biomaterial interactions. He earned a Ph.D. from Tsinghua University in China.
Mike Klote is an associate teaching professor with joint appointments in the Department of Engineering and Information Technology and Department of Industrial Systems Engineering. Klote, who has worked with Mizzou Engineering previously, brings experience in advanced manufacturing and 3D printing. Previously, he was an instructor at Moberly Area Community College.
Hyeong Suk Na is an assistant professor in the Department of Industrial and Systems Engineering and leads the Smart, Sustainable and Resilient Systems (SSRS) Lab. Prior to joining Mizzou, he was an Ervin Pietz assistant professor of industrial engineering at South Dakota School of Mines. His research areas include large-scale stochastic optimization, stochastic networks and simulation modeling, artificial intelligence and machine learning, emergency management and traffic operations. He earned his Ph.D. from Pennsylvania State University and M.S. from Texas A&M University.
Abdelnasser Ouda is a teaching professor in electrical engineering and computer science. With over two decades of experience, Ouda has played a significant role in education, teaching both undergraduate and postgraduate courses in computer science and software engineering. He has worked across various esteemed institutions in Canada and the United States, instructing in more than 30 distinct CS and SE subjects. He has a Ph.D. from Western University.
Travis Sippel is an associate professor in mechanical and aerospace engineering. He comes to Mizzou from Iowa State University, where he was assistant and associate professor. Sippel's research is in the area of energetic materials, which involves the study of synthesis, fabrication and combustion of propellants, explosives and pyrotechnics. His work has been funded by the Department of Defense and Department of Energy. He earned his M.S. and Ph.D. from Purdue University.
Scott Thompson is an associate professor of mechanical and aerospace engineering with affiliation to the MU Research Reactor. He conducts research on metals additive manufacturing methods, including laser powder bed fusion and directed energy deposition. He also investigates the effects of harsh environments such as nuclear radiation and high temperature on emerging materials. Before Mizzou, he was a faculty member at Mississippi State University, Auburn University and Kansas State University. He earned both his B.S. and Ph.D. from Mizzou Engineering.
Yingchao Yang is an associate professor in mechanical and aerospace engineering. Yang's research interests span in the loop of nanomaterial fabrication, property evaluation and advanced applications. He is the recipient of a National Science Foundation Early CAREER Award and faculty awards from the University of Maine. He earned a Ph.D. in Mechanical Engineering from the University of South Carolina.
Roseanna N. Zia is associate dean of research and Wollersheim Professor of Mechanical and Aerospace Engineering. She studies structure-property relationships of flowing suspensions, elucidating the mechanistic origins of the colloidal glass transition and multi-scale computational modeling of reversibly bonded colloidal gels. Her group now combines these areas to shed light on the matter/life nexus, building the first physics-based model of the minimal biological cell. She has a Ph.D. from California Institute of Technology.
Learn more about faculty careers at Mizzou Engineering.