September 22, 2023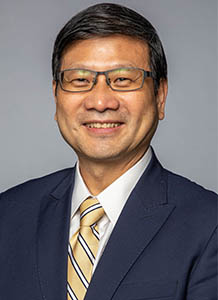 Mizzou Engineering's Chi-Ren Shyu has been named a Fellow of the American College of Medical Informatics (ACMI). He will be inducted at a ceremony during the American Medical Informatics Association (AMIA) Annual Symposium in November.
Shyu is Paul K. and Dianne Shumaker Professor of Electrical Engineering and Computer Science and director of the MU Institute for Data Science & Informatics. He is one of 23 new ACMI Fellows, who are elected by the 473-member body. Inductees represent excellence from academia, government and industry and are the best and brightest stars in the field demonstrating thought leadership, stellar experience and established scholarship, according to ACMI.
"Dr. Shyu has a sustained record in informatics research developing innovative technologies and explainable AI methods with significant impacts on industry, research community, and federal agencies," the ACMI's historical biography says. "He is also recognized for building NIH and NSF funded data science and informatics programs with trainees making notable contributions in the informatics community."
"I am honored to have been elected as a Fellow of ACMI," Shyu said. "It is a privilege to stand among such esteemed colleagues in the field of biomedical informatics within the College, all united in the mission to pioneer innovation in informatics research and education aimed at enhancing human health."
Shyu is also a Fellow of the American Medical Informatics Association (AMIA).