May 15, 2023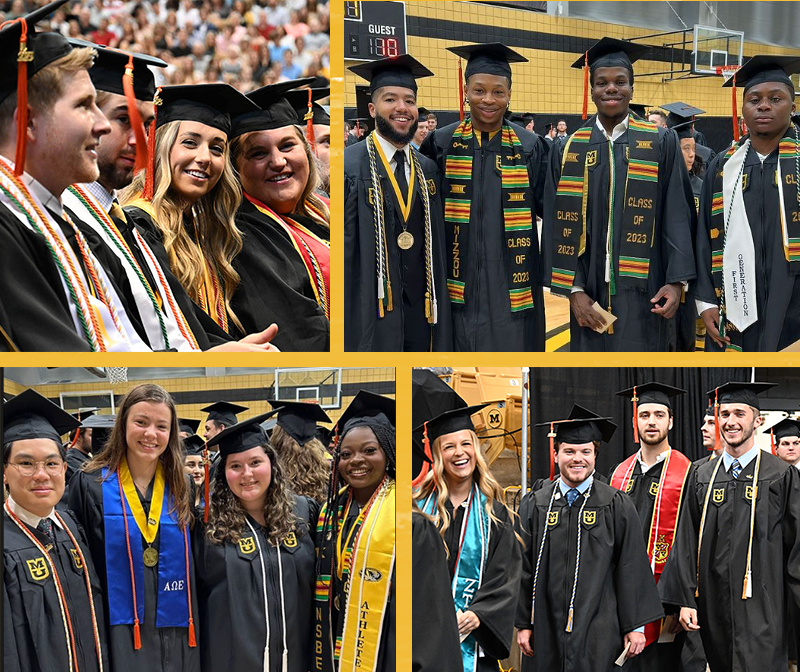 More than 400 students graduated from Mizzou Engineering this past weekend, the largest class since 2019. Roseanna N. Zia, Associate Dean of Research and Wollersheim Professor, joined UM President Mun Choi to confer degrees at the Sunday, May 14, ceremony at Mizzou Arena.
"I know you're proud, excited, maybe even a little unsure about what the future holds. I know because I once sat where you're sitting," Zia, BS ME '95, told graduates. "When I graduated from the University of Missouri, I felt all of those things. But I also felt prepared. Prepared because I was entering into the workforce equipped with a degree from Mizzou Engineering."
Zia assured students they, too, are up to the task even as they're challenged to solve some of society's biggest challenges. Engineering graduates go on to develop technologies to address health issues, engineer new drug delivery methods, solve supply chain issues, develop sustainable energy systems and advance technology in a way that's not only smart, but also safe, ethical and inclusive.
"Create a better world through engineering," she said. "You've already made us proud, fellow Mizzou Made engineers. I know you will continue to do so."
Additional honors
During Commencement, Mizzou Engineering also recognized newly commissioned Air Force and Navy officers from the Reserved Officer Training Corps (ROTC). They are:
Matthew Forbis, U.S. Navy, Navy Ensign, Mechanical Engineering
Colton Key, U.S. Navy, Navy Ensign, Information Technology
Hunter Hoelscher, U.S Air Force, Second Lieutenant, Mechanical Engineering
Eric Radle, U.S. Air Force, Second Lieutenant, Mechanical Engineering
Faculty and Staff Awards
Prior to Commencement, seniors are given the opportunity to vote for outstanding faculty and staff. This spring, the following were recognized:
Biomedical and Biological Engineering Assistant Professor Ilker Ozden
Chemical Engineering Director of Undergraduate Studies Mary Myers
Civil and Environmental Engineering Associate Professor Brent Rosenblad
Computer Science Associate Professor Michael Jurczyk
Electrical and Computer Engineering Chair and Professor Syed Kamrul Islam
Information Technology Associate Professional Practice Professor Chip Gubera
Industrial and Systems Engineering Teaching Professor Bin Wu
Mechanical and Aerospace Engineering Director of Undergraduate Studies Craig Kluever
Director of Facilities Aaron Saucier
Academic Advisor Teri Pinhero
See the May 2023 Commencement Program here.
Read more about our graduates here.