January 12, 2023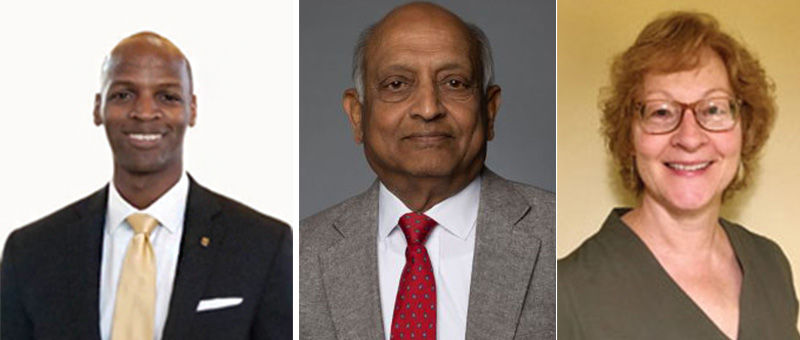 Mizzou Engineering has named three Inclusion, Diversity and Equity (IDE) Faculty Fellows for the Spring 2023 semester. These appointments are part of the College's enhanced commitment to underrepresented communities and ensure a welcoming environment for all students, faculty and staff.
The IDE Faculty Fellows are:
Kristofferson Culmer, assistant professional practice professor, who will represent the Department of Engineering and Information Technology and the Department of Electrical Engineering and Computer Science
Vellore Gopalaratnam, professor, who will represent the Department of Chemical and Biomedical Engineering and the Department of Mechanical and Aerospace Engineering
Kathleen Trauth, associate professor, who will represent the Department of Civil and Environmental Engineering and the Department of Industrial and Systems Engineering
"I look forward to working with our IDE Faculty Fellows as we continue to improve student success and retention in the College," said Noah Manring, Dean and Ketcham Professor. "We appreciate the work that previous IDE Faculty Fellows have done around these efforts and look forward to building upon that success."
The IDE Faculty Fellow program began two years ago to bring IDE efforts to the department level. Manring thanked outgoing IDE Faculty Fellows Patrick Pinhero, Jeffrey Uhlmann and Zaichun "Frank" Feng for their service.
IDE Faculty Fellows meet regularly with students in the Inclusivity Center in Lafferre Hall. They also host workshops for faculty and events.
Last semester, their efforts culminated with "The Value of Representation Fall IDE Event," held Dec. 9 in Ketcham Auditorium for all students, faculty and staff. The event featured Jennifer E. Brown, Director of Access and Outreach Initiatives, K-16 Office of Academic Access and Leadership Development at Mizzou.
Brown shared her formal education experiences and impacts of representation and different perspectives in STEM. Discussing the insight gained through degree programs and summer laboratory internships at a variety of institutions of higher education, she shared the lessons she learned and how they informed her approach to inclusion, diversity and equity today. Brown holds a BA in Physics from Westminster College, a BS in Applied Science in Chemical Engineering from Washington University in St. Louis, and an MS in College Student Personnel from Western Illinois University.
"We appreciate Jennifer sharing her insights with our engineering community," Manring said. "And we look forward to hosting more of these types of important conversations."
Learn more about Inclusion, Diversity and Equity at Mizzou Engineering.