July 05, 2023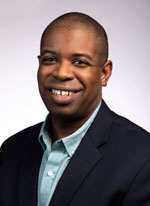 A Mizzou Engineering professor has been selected as the inaugural recipient of an award presented for innovative, caring and supportive approaches to inclusive excellence in teaching and mentoring.
Reginald Rogers, associate professor of chemical and biomedical engineering, will receive the Award for Excellence in Chemical Engineering Teaching Practice at the American Institute of Chemical Engineers Annual Meeting in November.
In his nomination, students described Rogers as the best professor they've had, someone who challenges them to learn but is always willing to help.
It's not the first time Rogers has been recognized for his commitment to students. In 2021, he was honored with The National Organization for the Professional Advancement of Black Chemists and Chemical Engineers (NOBCChE) Dr. Tyrone L. Mitchell Mentor on the Map Award.
"These awards mean a lot because they're a cumulation of everything I do, whether it's working with students in the classroom or in the research lab or office, where they come to see me when they need advice," said Rogers, who is also Director of Graduate Studies for the Department of Chemical and Biomedical Engineering.
And students go to Rogers for advice often, not just for help with homework but also because they know he cares about their success. It's what makes him more mentor than teacher.
"There's more to being an educator than just standing in front of a board," he said. "Students appreciate the fact that I'm fair, real, and honest with them. As an engineer, this is what you're going to have to go through; you're going to have to find the will to fight through the struggle and climb the mountain toward success. Mastering anything doesn't happen overnight…it happens over time. These awards showcase this fact."
'Using stepping stones to continue the journey'
After a miraculous recovery from an auto collision that nearly took his life in the late 1990s, Rogers went on to earn a bachelor's from Massachusetts Institute of Technology, master's from Northeastern University and doctorate from the University of Michigan.
He uses his personal testimony to remind students to expect the unexpected and work hard to defy the odds.
"It shows you who you are and what you're all about," he said. "I tell my story to students and say, 'Don't listen to the naysayers.' They begin to realize there's more to me and understand why I'm so tough on them. I'm looking out for them and have their best interests in mind."
Rogers will have to find room on his shelf for the latest award. In 2019, the American Chemical Society for the Northeast Region recognized him with the Stanley C. Israel Regional Award for Advancing Diversity in the Chemical Sciences. He was named Educator of the Year by the National Society of Black Engineers in 2018. The prior year, he received the Henry C. McBay Outstanding Teacher Award from the National Organization for the Professional Advancement of Black Chemists and Chemical Engineers. And he's led multiple faculty workshops to help others better connect with students, especially underrepresented groups in STEM areas.
Each accolade, he said, affirms he's on the right path, but Rogers stressed that he is on a lifelong journey of learning.
"Being a teacher and mentor, it's trial and error," he said. "Every person is unique, then you multiple that by 300. Guiding this many people takes time and it takes patience. These awards are not a finish line. They're a set of stepping stones for me to keep going on the journey…keep living my calling."
Learn more about chemical and biomedical engineering at Mizzou.