September 01, 2021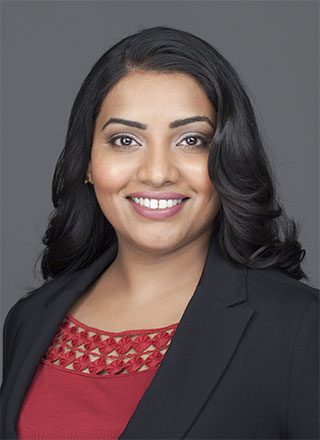 Solving issues around global hunger will require collaboration among diverse groups approaching the problem from multiple angles. That was one take-away from a presentation Mizzou's Kiruba Krishnaswamy gave on Aug. 26 at a webinar hosted by the American Association for the Advancement of Science (AAAS). The presentation was part of AAAS's Making & Innovation Showcase, a partnership with Historically Black Colleges and Universities (HBCU).
"How can we reach a zero-hunger world where every child has access to safe and nutritious food?" Krishnaswamy asked a group of students and academic leaders. "That's a question that challenges me."
Krishnaswamy is an assistant professor of Biomedical, Biological and Chemical Engineering with a joint appointment in the College of Agriculture, Food & Natural Resources, Division of Food, Nutrition and Exercise Sciences.
She is the director of the Food Engineering and Sustainable Technologies, or FEAST Lab.  There, she connects her research and teaching  toward United Nations Sustainable Development Goals, particularly on the goal of a zero-hunger world.
Right now, one in nine people face chronic hunger. A more dangerous epidemic, however, is hidden hunger, which means lacking necessary vitamins and minerals in food. Hidden hunger impacts about 2 billion people, including 7 million children who die before the age of 5 because of malnutrition, she said.
On the flip side, about 1.3 billion tons of edible food is wasted each year.
"In nature, nothing is wasted — everything transforms into something useful," Krishnaswamy said. "Waste is created by humans. What if we learned the power of transformation from nature and converted food getting wasted into value-added products to feed people who are hungry? That's what drives my research."
Krishnaswamy is currently working with the Missouri Soybean Merchandising Council to come up with a process to develop healthier, more sustainable powered milk, yogurt and tofu fortified with Vitamin B12. During her postdoctoral work at the University of Toronto, she was involved in global salt fortification projects (fortifying salt with iron and iodine) to reduce anemia in India.
But you don't have to be a scientist to make an impact, she told webinar attendees. Everyone plays a role, from farmers to food processors to consumer to food bank volunteers.
"Everyone is part of the food system, because we all eat," she said. "We're all stakeholders. The power to change food system is in your wallet."
For those who are interested in applying science and technology to the problem, Krishnaswamy invites students to enroll in her zero-hunger challenge course, which is open to students/guests outside of Mizzou. In the course, she pairs students from engineering, science, journalism, business and other disciplines and challenges them to come up with innovative solutions to solve issues around hunger and malnutrition.
"The idea is to give students real life experience before they graduate and to empower them to become global leaders," she said. "Food systems are complex from producers to distributors, and it's going to take people from multiple backgrounds and disciplines to address the challenges."
About the webinar
The webinar is part of the AAAS HBCU Making and Innovation monthly webinar series. The goals and objectives of the series are to share information, resources and professional development to assist HBCUs in advancing the areas of making, innovation, entrepreneurship and invention.
This work is supported by the National Science Foundation (NSF) through a grant from the HBCU Universities Program. The project is led by Iris R. Wagstaff, who serves as the NSF PI, and Neela White, who serves as the NSF Co-PI. The team is also supported by Program Associate Tarrick Clayton and Senior Program Associate Allison Gonzalez. To learn more about the project and AAAS visit the websites at AAAS HBCU Making & Innovation and AAAS.
Want to partner with other students to address hunger issues? Learn more about the Zero Hunger Challenge Course. If you would like to take the Zero Hunger Challenge Fall 2021, contact Prof. Krishnaswamy here.