March 02, 2022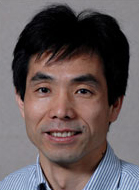 During his decade-long study of a metabolic enzyme, a Mizzou Engineer might have identified a previously unknown disease. Now, Professor Shinghua Ding has received a five-year, $2.3 million grant from the National Institutes of Health (NIH) to work with collaborators on further mechanistic investigation.
Ding is Cramer W. LaPierre Professor of biomedical, biological and chemical engineering and studies NAMPT, a critical metabolic enzyme involved in processes such as NAD+ synthesis, energy metabolism and cellular function.
In 2017, he published a ground-breaking study in Cell Reports that found NAD+ synthesis in neurons critically relies on NAMPT. In that study, Ding observed that deleting neuronal NAMPT in mouse models led to neuronal death, motor dysfunction, paralysis and ultimately proved fatal, and NAMPT reduction was related to ALS, a devastating motor neuron disease.
Following publication of the paper, Ding was contacted by a physician scientist in Europe who, after ruling out other possibilities, suspected something similar was happening in human patients.
"The physician saw two patients who reported similar symptoms and asked me if I thought it could be related, so we began collaborating," Ding said. "We think this is a neural disease that causes paralysis and muscle atrophy affecting the whole body."
The researchers will use the funding to create mouse models and human skin cells-derived stem cells to determine what causes the disease, the pathology of the disease and how it progresses.
"This is a disease that has not been identified yet," Ding said. "It's a new genetic disease for this molecule that has never been reported in any publication or clinical case before."
Ding, who is also an investigator at the Dalton Cardiovascular Research Center, was one of the first researchers to connect NAMPT-NAD+ axis with the effects of brain injury in ischemic stroke. This past fall, he published a paper reviewing how NAD+ and associated molecules impact diseases with motor dysfunction.
NIH has supported Ding's work for a number of years, with the recent grant being the largest award his lab has received.
Be part of ground-breaking discoveries. Study biomedical, biological and chemical engineering at Mizzou.