November 30, 2022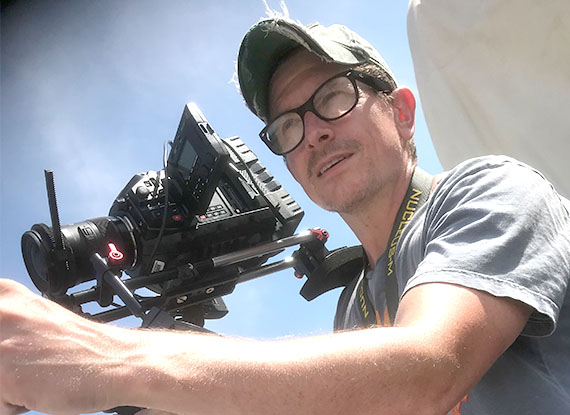 When he wasn't teaching visual effects and design at Mizzou Engineering, Chip Gubera has spent the past three years co-producing a full-length film featuring a Columbia landmark.
"Shakespeare's Mummy," an adventure for the whole family, debuted at test screenings in Columbia and Fulton last month.
"The response was great," said Gubera, an associate professor of professional practice in the Department of Engineering and Information Technology. "We received positive feedback and will make some tweaks based on that."
Gubera added that some of that feedback came from his own students.
"They were pointing out stuff we talked about in class, so that made me feel good as an educator," he said.
Shakespeare's Mummy revolves around an Egyptian zombie apocalypse that originates from a pizza oven at Shakespeare's Pizza in Columbia. When a mummy hand shows up in a delivery box, the young recipients are forced to chase it down to defeat ancient evil — all while escaping the mob.
As co-producer, Gubera was involved in everything from helping with the original storyline to organizing shoots and coordinating the crew. He's also an actor in the film, starring as Mr. Piper.
It's the second children's film Gubera has worked on with director Adam Boster. In 2020, they released "The Lost Treasure of Jesse James."
In the past, Gubera has been able to recruit information technology students to help work on films. However, "Shakespeare's Mummy" was unique in the fact it began just before COVID. The pandemic stalled filming for a year, then resumed in 2021, mostly requiring night shoots.
Information technology skills are beneficial throughout any film production, Gubera said. During pre-production stages, directors and producers have to determine the overall look and feel of a film, including what digital assets and visual effects will be needed.
Then, during production, IT professionals help determine camera, audio and other equipment needs and assist with the transfer and storage of digital files.
During post-production, visual effects artists and designers put the final touches on a film, including the visual effects that bring fictional characters — in this case Egyptian zombies — to life. At Mizzou Engineering, these skills are taught in motion graphics and visual effects design, as well as 3D modeling and animation.
"Films are a lot of work and take a lot of people," Gubera said. "For IT students interested in working in entertainment, there are a lot of opportunities."
Boster, Gubera and fellow crew members are now in the process of finalizing the film before submitting it to family-focused film festivals across the country. Gubera is hopeful it will begin to circulate in 2023 and will eventually be picked up by a major streaming service.
"We're hoping to generate local buzz at film festivals," he said. "We're trying some interesting marketing strategies to get it out, and we hope to have independent screenings after the festival. So, it's kind of a grassroots campaign."
Interested in learning visual effects, audio production and other digital media skills? Apply to Mizzou Engineering today!