May 04, 2023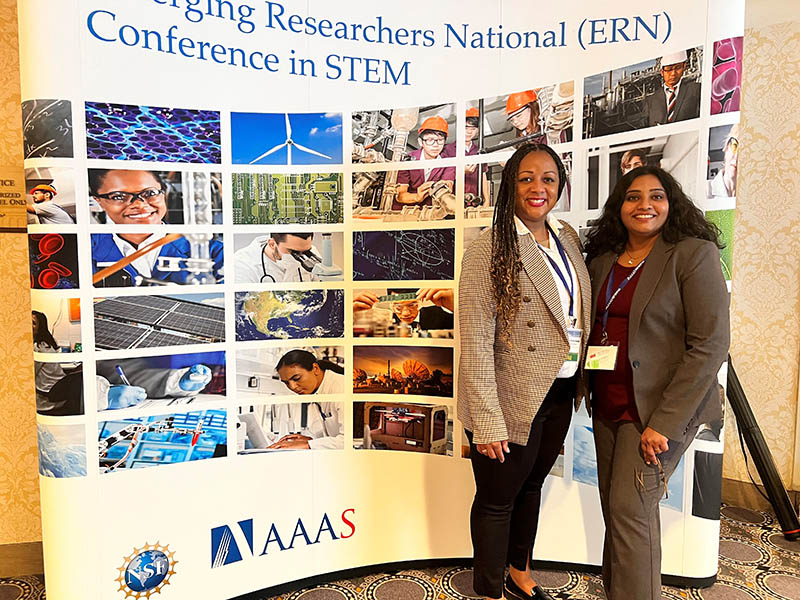 More than 2 billion people in the world face hidden hunger and malnutrition, even as 1.3 billion tons of edible food is either lost or wasted every year. Meanwhile, it's estimated that the global human population will increase to 9-10 billion over the next 50 years, putting even more strain on food production.
These are overwhelmingly complex problems. Assistant Professor Kiruba Krishnaswamy has a way of making solutions sound simple.
What if, instead of dumping byproducts from the food industry and food processing into landfills as waste, you could extract their nutrients and develop them into tasty foods? What if people relied more on the nutritious, native fruits and vegetables grown in their own regions to prevent biodiversity loss (think elderberries and pawpaw in Missouri)?
Over the past several years, Krishnaswamy has become a disciple of sorts for safe, sustainable healthy food systems. She's an ambassador for multipronged approaches for a Zero Hunger World, one of 17 Sustainable Development Goals (SDGs) set forth by the United Nations.
Earlier this semester, she took her message to Washington, D.C., where she was invited to be part of the AAAS Emerging Researchers National (ERN) Conference in Science, Technology, Engineering and Mathematics, hosted by the American Association for the Advancement of Science (AAAS), Diversity, Equity and Inclusion Programs and the National Science Foundation (NSF), Division of Human Resource Development.
More than 2,000 students from around the world attended, including undergraduate and graduate students.
Krishnaswamy co-led a workshop with LaKisha Greenwade, founder and president of Wearable Tech Ventures.
"I was honored to present alongside Lakisha," Krishnaswamy said. "She is a trailblazer and has pioneered creating an ecosystem for wearable technologies entrepreneurship. She is highly respected in the innovation sector. Her work empowers and motivates innovators from the under recognized groups."
Krishnaswamy and Greenwade spoke to attendees about how design thinking and innovation can help solve grand challenges such as food sustainability and other UN priority areas.
"One of Kiruba's gifts is simplifying complex topics," Greenwade said. "Many innovators may have never been introduced to the UN's sustainability goals, and Kiruba was incredibly efficient at breaking that down so our emerging researchers could tie impact to their own research."
Krishnaswamy uses her background as a food engineer as a blueprint for combining skillsets and interests to tackle global problems. Through her testimonial and experiences, she hopes to not only lay out the complications of food insecurity but also inspire audiences and instill a sense of shared purpose.
"The impact she has made in coming up with creative solutions that can be replicated in other geographic areas and different countries is nothing short of amazing," said Greenwade, who's also an author and recipient of an Inventor of the Year Award in Maryland. "She's passionate, collaborative and inspires all of us to achieve greatness with the methodology she uses."
Krishnaswamy came to Mizzou in 2018 with appointments in both chemical and biomedical engineering and in the College of Agriculture, Food & Natural Resources.
In her Food Engineering and Sustainable Technologies (FEAST) Lab, she and her research team take a three-pronged approach to Zero Hunger. Using innovative technologies, FEAST researchers find ways to upcycle food loss/wastes, encapsulating micronutrients to fortify food to address hidden hunger. While it sounds simple, processes are highly complicated, as each food product brings unique chemical structures that can interfere with one another if not properly treated.
Current projects include extracting vitamins and minerals from acid whey—a wasted product from Greek yogurt production. She's also looking at food loss prevention of ancient seed grains like millets and adding value to native fruits such as elderberries and pawpaw to develop nutritionally enhanced products.
Perhaps the simplest solution to solving global hunger is taking a page from nature itself, Krishnaswamy said.
"In nature, nothing is wasted," she said. "Everything is transformed into raw material and can be used. Just by shifting our perspective, we can open up a lot of opportunities."
Engineer solutions for a more sustainable world. Apply to Mizzou Engineering today!