August 01, 2023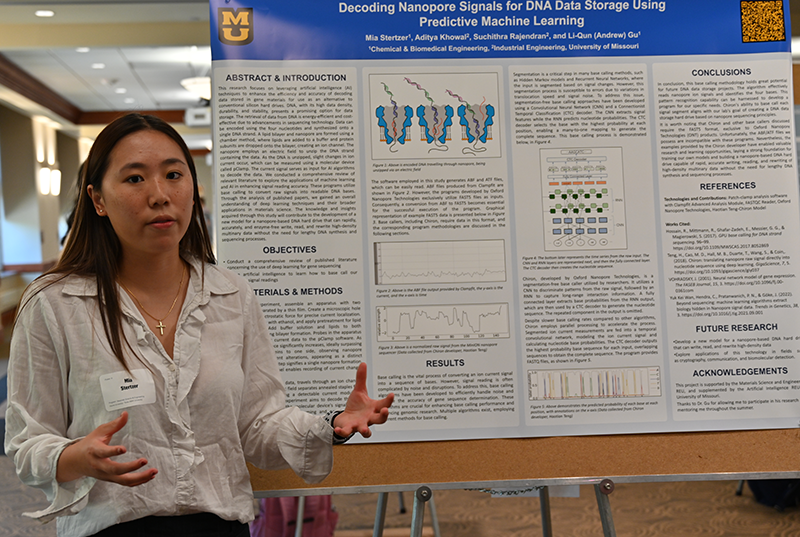 Students participating in a materials science-focused summer program have spent nine weeks at Mizzou Engineering getting hands on research experience.
It's part of a Research Experiences for Undergraduates Site funded by the National Science Foundation and co-led by Professors Reginald Rogers and Matt Maschmann.
"My hope is to get students to see research as more than just standing in a lab," Rogers said. "It's developing an idea and using creativity to solve problems. I want to sow a seed and introduce them to research and industry opportunities so they can make well-informed decisions to do whatever is right for them after graduation."
The overall theme of the REU focused on materials, however that has broad-reaching, interdisciplinary applications. Students worked with cell cultures and biomaterials, carbon nanotubes and polymers.
Mia Stertzer, a materials science and engineering major at Texas A&M worked with Biological and Biomedical Engineering Professor Li-Qun "Andrew" Gu on decoding nanopore signals for DNA data storage using predictive machine learning methods.
"Everyone knows silicon hard drives power our computers," she said. "This is a new method to do that using DNA. DNA is highly dense and obviously holds a lot of information. We want to utilize this property for future hard drive storage to replace traditional storage."
Adam Distler is a mathematics and astrophysics major at the University of Wisconsin-Madison. He worked with Associate Professor Mahmoud Almasri from electrical engineering and computer science on research around optimizing performance of silicon-germanium-oxide thin films for use in infrared detectors.
"Infrared is part of the spectrum we can't see but provides great information about the environment as a whole," he said. "For instance if someone is wearing camouflage in the forest, you can't see them but with infrared you can. This has many applications from military to rescue efforts."
The REU also included weekly seminars focused on creativity, idea generation and collaboration. Rogers emphasized that working with materials requires creativity, which benefits from diverse experiences and backgrounds.
"Life experience generates new ideas," he said. "That's where creativity comes from. And then using that creativity to solve problems, and translating that into research."
Other projects from the REU in Materials Science included:
Roberto Garcia Coronado worked with Matthias Young, an assistant professor in chemical engineering. They used compressed electrode sponges to overcome diffusion limitations.
Reann Kalinowski worked with Lin Shi, a post-doctoral fellow in chemical engineering, on the fabrication of flexible electrodes via inkjet printing of silver nanowire and conductive polymers.
Lauren McCarthy worked with Bret Ulery, an associate professor of chemical engineering, on hydrogen sulfide releasing biomaterial for peripheral nerve injury repair.
Dale Mouton worked with Professor Matt Maschmann from mechanical and aerospace engineering on using coated carbon nanotubes to enhance water desalination processes.
Celia Watson worked with Mengmeng Yao, a post-doctoral fellow in chemical and biomedical engineering, on the development of smart adhesive and stretchable viscoelastic polymers for skin-interfaced bioelectronics.
The students presented their work at the Undergraduate Research Forum on campus last week.
Study and develop new materials that change the world. Apply today!