March 22, 2022
From the kickoff outside Overholser Atrium to the naming of the E-Week King and Queen — seniors Joseph Thornhill and Riley Jackson — the 119th anniversary of Engineers' Week brought students, faculty, staff and alumni together to celebrate all things engineering at Mizzou.
E-Week organizers themed this year's festivities, "Patapalooza," a nod to a popular music festival.
Activities began on Friday, March 11, at the annual Dome Lighting Ceremony, a tradition that began as an E-Week stunt in 1988. Along with approximately 150 students, faculty and staff in attendance, Associate Dean of Student Services and Academic Programs Roger Fales, guest speaker alumnus James Devaney, BS EE '00, MS ECE '03, JD '09, and 2022 E-Week co-chairs Chloe Jones and Paul Orton flipped the switch to turn Jesse Hall's dome from white to green.
Prior to the Dome Lighting Ceremony, alumni and friends gathered for the Alumni Happy Hour. Approximately 65 alumni met at The Heidelberg before heading over to the Dome Lighting Ceremony.
E-Week Activities
Mizzou Engineers had fun participating in activities throughout the week. The Run/Walk 5K/10K brought students from Engineering and the College of Arts & Science together to raise funds for Habitat for Humanity in Columbia.
The next day, students were treated to a free lunch at the Hot Dog Banquet. Several members of the St. Pat's Board grilled and served hot dogs so Engineers could take a break from studying.
The Diverse Engineering Professionals Conference (DEPC) was held during E-Week for the first time this year. Keynote speaker Sam Brinton highlighted how different world views and backgrounds will ultimately improve organizations and people.
Royalty candidates represented the College at a number of activities during the week. They traveled to Jefferson City to meet state lawmakers and officials, and to tour the capitol and learn the history of the building. Candidates also entertained students during Skits & BBQ by creating and performing skits celebrating the College of Engineering.
Mizzou Engineering also hosted more than 450 middle and high school students who had the opportunity to see research up close. During Lab Exhibits, another long-running E-Week tradition. included phase change heat transfer, electrons moving through materials and supply chain optimization. Several student competition racing teams displayed their current or past builds, as well, getting a younger generation excited about engineering applications.
Engineering alumni inspired current students, serving as guest lecturers as part of the Professor-for-a-Day series. Alumni spoke to various classes, sharing their experiences and providing industry insight.
Rain moved the traditional Knighting Ceremony and Grand Kowtow to Naka Auditorium. An E-Week tradition that dates back more than 100 years, students have the chance to see St. Patrick, whom Mizzou Engineers deemed an engineer in 1903. St. Patrick presided over the ceremony, knighting seniors for their Mizzou Engineering successes. Over 40 seniors became a Knight of St. Patrick, while four alumni were made honorary knights – Doug DeMaire, BS IE '68, MS IE '69, Michael Melton BS EE '81, JD '84, Lorraine Stipek, BS EE '86 and Bob Thumser, BS IE' 82, MS IE '90.
E-Week Concludes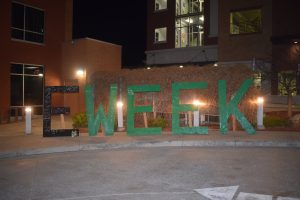 On the final day of E-Week, Saturday, March 19, students gathered for the Ada Wilson Green Tea Lecture in Ketcham Auditorium. This event is named after the first woman to graduate from the College of Engineering in 1907. Linda Wibbenmeyer, BS ChE '95, customer satisfaction and quality lead for DuPont and current president of Mizzou's chemical engineering industrial advisory board, spoke on how challenges and opportunities in the workforce can change during one's career. After her remarks, attendees made their way to The Residence on Francis Quadrangle with Mizzou Provost & Executive Vice Chancellor for Academic Affairs Latha Ramchand, PhD, for a reception.
E-Week culminated with the St. Patrick's Ball. This event, dating back to 1905, is hosted by the MU Engineering Alumni Organization. In addition to announcing Thornhill and Jackson as this year's Engineering royalty, the ball gave students the opportunity to gather with friends and celebrate their engineering education.
Students: Want to help plan the 120th Anniversary of Engineers' Week at Mizzou? Watch for Engineers' Club/St. Pat's Board announcements in the fall.
Check out more photos from E-Week 2022 on our Facebook page.