May 16, 2022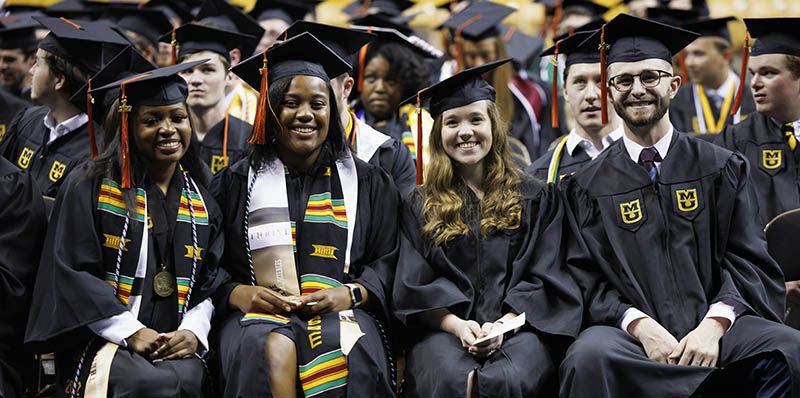 Mizzou Engineers graduated this weekend equipped with the foundational understanding and technical know-how needed to tackle some of the world's most significant challenges.
Provost Latha Ramchand joined Mizzou Engineering Dean Noah Manring to confer more than 350 undergraduate degrees at Spring 2022 Commencement on Friday, May 13.
During his remarks, Manring reminded graduates that they are part of the College's more than 150-year legacy of engineering discovery and innovation.
"What you have studied here using robots, drones, artificial intelligence, two-phase heat transfer, nanoscale materials, supply chain management and more will shape the way our world looks in 20, 50 and 100 years," he said.
Mizzou Engineers have been shaping history since the College was incorporated. Manring pointed to civil engineers in the 1880s who learned topography to survey the west; mechanical engineers who, at the turn of the century, worked on steam engines that would lead to a transportation revolution; and the electrical engineers who studied early communications, technology that would make way for modern-day computers and smart phones.
"As we celebrate our 150th anniversary this year, I can't help thinking about the many students who have graced our halls over the years and the impact that each one made toward the advancement of engineering and the modern world," he said.
The Class of 2022 will make their mark on society, too, as they enter a post-pandemic world, he said.
"We know there are significant challenges all around us," Manring said. "But where others see problems, I urge you to look for opportunities. Seek solutions that will make our world smarter, safer, more sustainable, more trustworthy and more compassionate."
Keynote speaker John A. Rogers exemplifies an engineer-scientist who has made the most of his moment in history. Rogers is a world-renowned biomedical engineering widely recognized as the father of bio-integrated electronic technologies and is one of 24 individuals in history to belong to the National Academy of Engineering, the National Academy of Science and the National Academy of Medicine.
On Friday Rogers received an honorary doctorate recognizing his contributions.
Additional Honors
During Commencement, Mizzou Engineering recognized three newly commissioned Air Force, Army and Navy officers from the Reserved Officer Training Corps (ROTC). They are:
Liam Gray, Air Force, 2nd Lieutenant
Justin C. Shores, Army, Second Lieutenant
Bridger Bjornstrom, Navy, Ensign
Engineering students also earned graduate degrees during MU Graduate School Commencement ceremony, and many participated in the Honors College Convocation.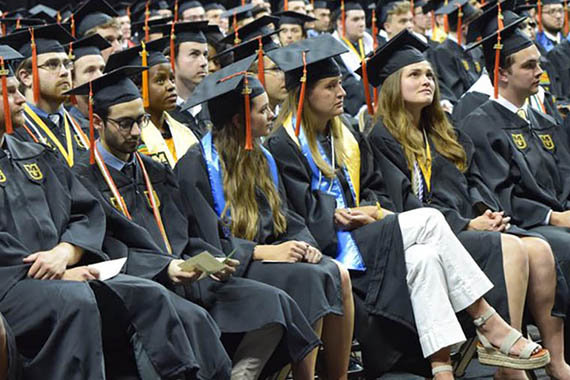 Faculty and Staff Awards
Prior to Commencement, students are given the opportunity to vote for outstanding faculty and staff members. This spring, the following were recognized:
Be part of a legacy of history-makers. Become a Mizzou Engineer!