March 01, 2023
When it comes to water, there are a lot of stakeholders. Not only do we all need access to clean water—including fish and wildlife—but local economies rely on lakes and rivers for agriculture and tourism. When there's not enough, droughts can destroy a year's worth of crops. Too much can cause flooding that devastates communities.
With those factors in mind, Mizzou established the Missouri Water Center a year ago, merging two former centers: The Missouri Water Resources Research Center in the College of Engineering and the Center for Watershed Management and Water Quality in the College of Agriculture, Food and Natural Resources (CAFNR).
Now, the Missouri Water Center brings together researchers from engineering, agriculture, food and natural resources, along with community and industry partners and government agencies, to ensure water resources are managed with the shared goal of protecting our most valuable natural resource.
"Society has become complex, and technological solutions alone aren't enough," said Baolin Deng, professor of civil and environmental engineering and center co-director. "You need buy in from multiple stakeholders, from the community, from state and federal agencies — people who all have good intentions but approach issues from different backgrounds and perspectives. We want to bridge the gap so we can all address issues that are important to health and the environment and to ensure we have a sustainable society in which everyone benefits."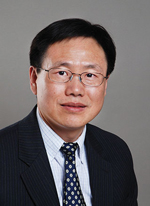 Because water issues are broad and complex, Deng and co-director Damon Hall, an assistant professor of natural resources with a joint appointment in engineering, along with members of an advisory committee have spent the past year prioritizing research focus areas.
Initial priorities include developing new technologies to monitor water levels and predict changes; analyzing economic impacts such as flood damages to crops, farms and infrastructure; water quality monitoring and mitigation; improving communications with local communities; and training students to work on water-related issues. The Water Center received a $5 million federal appropriation this year to address these priorities. An example project under this support is smart monitoring of a new Roy Blunt Reservoir under construction in northern Missouri. The lake is expected to serve 10 counties, providing drinking water, flood control and recreation.
"We want to ensure that reservoir operates for a century, so we need to monitor the amount of water and water quality, supporting communities and industries in that area," Deng said.
Water Center directors are also looking ahead to future projects. One of the broader efforts is assisting with the expansion of the Missouri Mesonet, a network of weather monitoring stations to each county of the state. Right now, that network has 42 weather stations that record precipitation, wind gusts and direction, humidity, dewpoint and temperatures. Those stations are currently located in 27 counties across Missouri.
"Our aim is to get those stations up in all 114 counties," Hall said. "On top of that, we're working on making the data more meaningful to users—farmers, scientists and members of the public."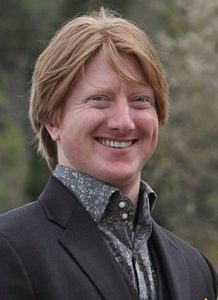 Another area Missouri Water Center stakeholders are considering is in the area of water transportation in order to reduce the number of semi-trucks on our highways, which are the No. 1 cause of carbon emissions. One barge can transport 33 containers compared to a semi-truck that carries one container. Transportation costs could also be lowered by using the river to move products, Deng said.
Integrated into all faculty research in the Missouri Water Center is training a cadre of future professionals who will excel in water-specific jobs.
The Missouri Water Center is also providing support for a new Missouri Hydrology Information Center (MHIC) under the Missouri Department of Natural Resources. Governor Mike Parson included a $10.4 million state appropriation to create MHIC to further expand monitoring and mapping and to enhance the work of the university center.
"We're building UM System capacity to have data and expertise at the ready whenever they need help," Hall said.
In addition to the advisory committee, that capacity also includes building new partnerships with water experts at the Missouri University of Science & Technology and recruiting Mizzou faculty who have expertise in water research.
"The MizzouForward initiative has been great for hiring water experts and bringing them to the University to expand our abilities and what we can provide our federal and state partners," Hall said. "We have an impressive group of experts and great representation across many people who are interested in water—from the non-profit sector to industry representation to state and federal agencies. We're on the right track ensuring our projects are in step with the needs of the state, the needs of the country and the needs of Missourians."