April 04, 2023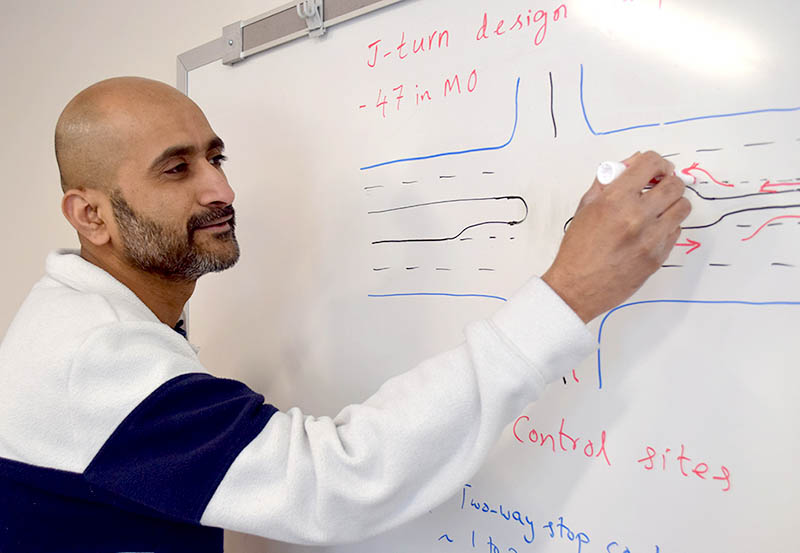 A Mizzou Engineering team has been tasked with assessing the effectiveness of J-turn intersection designs across Missouri's state highway system.
Specifically, Praveen Edara, professor and chair of civil and environmental engineering, is working with the Missouri Department of Transportation (MoDOT) to determine how J-turns have reduced crashes compared to traditional stop-sign intersections.
J-turn intersections redirect traffic where minor roads intersect divided highways. They provide an alternative to traditional two-way stop intersections in which motorists must cross anywhere from two to six lanes of traffic in order to turn left or proceed straight to an opposite side road.
J-turn intersections instead require motorists to turn right, then merge into a left lane and continue along the route until provided the opportunity to make a U-turn onto the other lane. The U-turn is typically within 3,000 feet "downstream" of the intersection, adding no more than a minute to travel time.
Unlike the traditional intersection, which has 42 different points at which vehicles could collide, J-turns have roughly 25 potential conflict points.
"In terms of reducing fatalities and severe injuries, it's necessary to pursue these alternative designs that have fewer conflict points," Edara said.
Earlier studies across the country have shown J-turn intersections work. In Missouri, an MU study from 2013 showed that J-turns reduced crashes by 25%, decreased fatal crashes by 88% and eliminated entirely right-angle, or T-bone, crashes.
"That evaluation was based on five J-turn intersection locations as J-turns were still relatively new in Missouri at the time," Edara said. "Since the completion of the initial study, the use of J-turns in Missouri has continued to grow, with 47 in operation at this time. And we now have several years of data to measure their safety performance."
In addition to crash data, Edara and the team will also assess variations in J-turn intersection designs, such as the presence of acceleration and deceleration lanes, distance from the intersection to the U-turn and presence of a loon, which is a swath of pavement added to allow larger vehicles to better maneuver the U-turn.
"We will also be analyzing crash data at control sites to accurately attribute crash reductions to the J-turn sites. About 80 control sites that are similar in geometrics and traffic characteristics to the J-turn sites have been selected for this analysis." Edara said. "An important outcome of the study will be crash modification factors that quantify the expected crash reduction for J-turns. These factors will assist MoDOT in choosing the right solutions to address safety concerns on high-speed rural highways in our state."
Edara will present final findings in June 2024. Henry Brown, a research engineer, and Carlos Sun, professor of civil and environmental engineering, are also part of the study.
Work alongside civil engineering faculty who solve real-world problems. Apply today!