Cyber Security Camp Teaches Students Computing
Want to play detective and investigate cyber attacks? Interested in learning tools and coding to detect attacks? Want to develop cool visualizations to track cyber attacks? If so, join us for the Hacker Tracker Cyber Security Camp! Available in-person, the camp is open to students in grades 6-12.
Camp Dates
July 17-19, 2023
Cost
$300
Registration
In collaboration with:

Overview
At the Hacker Tracker Cyber Security Camp, you will assume the role of an expert witness. Conduct a network forensics investigation to catch cyber criminals who are attacking a "good online gaming" company. Learn coding with a database. Initiate ethical attacks and analyze them with tools such as Slowhttptest and Tshark. You will also collect evidence to demonstrate to the jury the geographical location of the "cyber criminal mafia" and the extent of damage caused for compensation.
The goal of the camp is to get students excited about computer science. Participants will think broadly around topics of cyber security, cloud computing and computer programming and will become active learners of technology.
Expected Outcomes
Throughout the camp, students will learn and understand basic cyber security concepts such as risks of online behavior. Participants will get to know security best practices and gain hands-on experience in cyber attack/defense by going through real-world learning exercises. Students will also be provided experiences around issues such as ethics, team work and public speaking.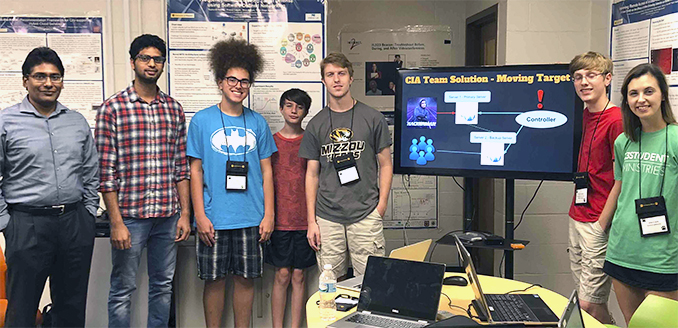 Camp Instructors
The camp is organized and led by Dr. Prasad Calyam, an associate professor in the Department of Electrical Engineering and Computer Science  and co-instructed by Roshan Neupane, graduate student in the CERI Center. The instructors are experts in the field of cybersecurity science and practice. Since the camp was first offered in 2015, instructors have enjoyed providing bright high school students a crash course in coding and cyber security before letting them work together in a group project to do hands-on learning in a team setting.
Related News
Middle, high school students explore cyber security at Hacker Tracker Camp
EECS summer programs shed light on cyber security, machine learning
Hacker Tracker camp teaches high schoolers cyber security skills
Camp Activities
The camp will focus on the below topics over a three-day schedule.
DAY 1
Introduction to Cyber Security and Cloud Computing
Operating System and Linux Programming
Ethical Hacking and Network Data Analysis Tools
DAY 2
Attack Detection and Defense Strategies
Moving Target Defense – Hands-On Cyber Security Experiments
DAY 3
Slides Preparation
Presentation and Demo
Requirements
Students will need a personal computer with Internet access and software installation privileges.
Questions
If you have questions regarding the camp, please contact Professor Prasad Calyam at calyamp@missouri.edu.